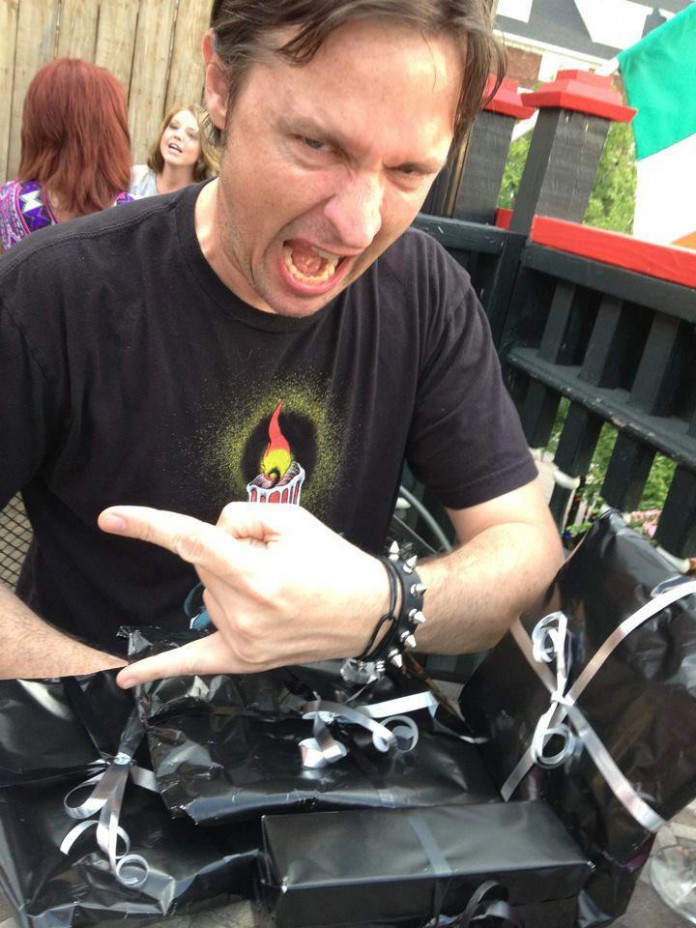 Just in time for the end of the world—or did it end already?—we have a soiled leather bag featuring some steaming year-end lists from Bazillion Points authors. Yes, these generous souls already sacrificed over hot pens for years to bring you their books, now they will continue showering us with the benefits of their golden eyes and ears. First out of the gate is madman Jeff Wagner, the brain behind prog metal bible MEAN DEVIATION: Four Decades of Progressive Heavy Metal. (Signed copies of the book are ON SALE HERE.)
[svensk]8sxmxMTMKVU[/svensk]
#5. THE MARS VOLTA – Noctourniquet
The jarring, unsettling fracture of opener "The Whip Hand" sets the stage—it's Mars Volta practically saying "We've never taken the easy road, and this one's going to be one of our most difficult." Noctourniquet found the band coming refreshed and reoriented off an unusually long break (three years, an eternity for their prolific selves). With a mountain of difficult songs here and more tranquil, atmospheric epics there, Noctourniquet is bursting with infinite details to study and enjoy—just as with every other MV album, yet this one's a bit more crooked and deliberately distant. Once you start figuring it out, the real rewards come. Key songs are "Empty Vessels Make the Loudest Sound," "In Absentia," and "Zed and Two Naughts."
[svensk]2cr4YixJfi8[/svensk]
#4. ANATHEMA – Weather Systems
Despite a lull during the third and fourth songs, Weather Systems is a super-solid offering from Liverpool's second greatest band. (In my world, they're at least as good as the Beatles). The best stuff here is what Anathema does best: raw, naked, painfully open emotional music, exploding with color and overridden with hope. There's no other way to describe it—Anathema can wilt even the most hardened heart. Album centerpiece "The Storm Before the Calm" proves drummer John Douglas really needs to write more songs for this band. His contributions are always high points. Key songs are "Untouchable, Part 1," "The Storm Before the Calm," and "The Beginning and the End."
[svensk]N7YoAPkAujA[/svensk]
#3. DEFTONES – Koi No Yokan
Koi No Yokan is Deftones doing what they do best; almost like Diamond Eyes dialed down a notch. After the initial impression of having heard this all before, I threw that baggage out and just enjoyed each song for what it is. Everything we've ever loved about this band since White Pony is here—all except the feral aggression of something like "Elite." Deftones offer another mind-blowing batch of loping shoegaze anthems meshed with moments that are heavier than fucking fuck. Both worlds merge quite often, like during "Swerve City" and "Gauze." Deftones are addictive and deadly! Key songs are "Swerve City," "Graphic Nature," and the ungodly awesome "Tempest."
[svensk]2PBBfk1xd9U[/svensk]
#2. BARONESS – Yellow & Green
Thinking mistakenly that Baroness were just your average sludge band, I wasn't that tuned into this band for their first couple albums. They certainly have nothing to do with sludge now. Yellow & Green is an album of uncommon maturity, written and performed by a band with just the right chemistry to pull off an album of this magnitude. Sophisticated modern rock packed full of amazing and interesting tunes here, and we are all very grateful that they survived a horrible bus crash during 2012. Yikes! Key songs are "Take My Bones Away," "Cocainium," and "Foolsong"/"Collapse." Those last two songs belong together, they feel like twins.
[svensk]IJN0fP-uCt8[/svensk]
#1. WITCHCRAFT – Legend
No album released in 2012 is as catchy as this one. No band showed such massive improvement from their previous albums. No singer delivers more authenticity, conviction, and passion than Magnus Pelander. In fact, nobody this side of '70s era Rob Halford can compare. This album is perfectly written, perfectly sequenced, perfectly executed, and to my ears just about perfect. Key songs are "Flag of Fate," "It's Not Because of You," "White Light Suicide," "An Alternative to Freedom," "Democracy," "Dead End"…fuck it, all of them are key, even the bonus track!
So now you know—what do you say?
Jeff Wagner is the author of prog metal bible MEAN DEVIATION: Four Decades of Progressive Heavy Metal.