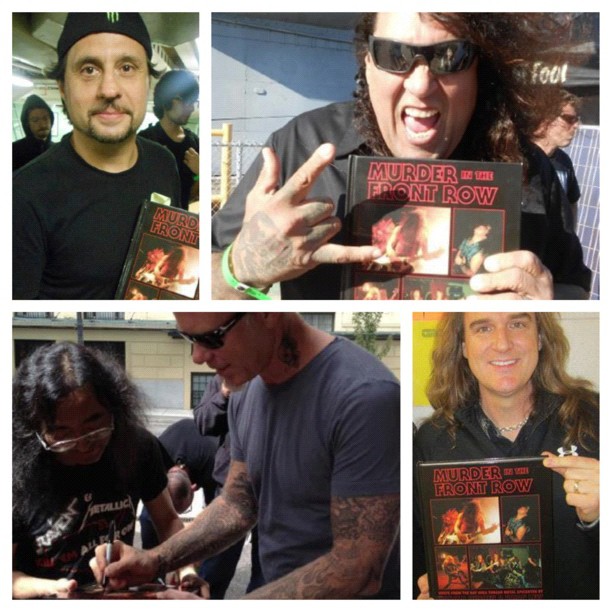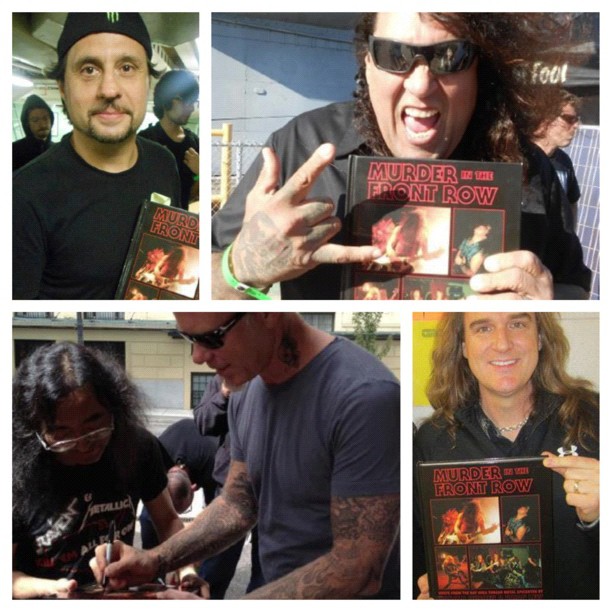 Heaviest. Book club. Ever. The meaty thrash metal photo-history Murder in the Front Row: Shots From the Bay Area Thrash Metal Epicenter, by Harald Oimoen and Brian, has been crushing posers nonstop worldwide for just a few weeks short of a year, presenting the perfect chance to take stock. Turns out this slab of pulp has really gotten around.
Feast your eyeballs on this glowing gallery of shots of the book in the hands of members of Metallica, Slayer, Exodus, Megadeth, Testament, Death Angel, Mercyful Fate, Raven, Forbidden, Machine Head, Sepultura, C.O.C., Voivod, and Municipal Waste, plus Jello Biafra, Zakk Wylde, comedian Jim Breuer, and mega-platinum Colombian superstar Juanes!
And where we don't have the photos, we have the emails and texts, so thank you!
"Awesome"—Robb Flynn, Machine Head
"Awesome"—Brian Slagel, Metal Blade Records
"Fucking awesome"—Kerry King, Slayer
"Thank you for writing this book! It's the definitive story of the scene and what we managed to make of it here in the Bay Area."—Kirk Hammett, Metallica
In the words of the immortal Paul Baloff: Why you gotta be so HEAVY?
[nggallery id=3 ]
Murder in the Front Row: Shots From the Bay Area Thrash Metal Epicenter