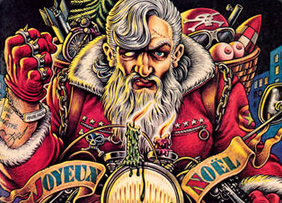 SiriusXM BLOODY ROOTS OF HOLIDAY METAL
Week of December 15, 2012
Sat. 12/15, 6PM ET
Sun. 12/16, 2PM ET
Tues. 12/18, 3PM ET
Thurs. 12/20, 9PM ET
The winter festival is here, so slaughter the golden goose, fill your fists with spiced rum and hot beer, and let the laughter of a thousand victories fill the hall. Winter, Christmas, Hanukkah, and Pagan Yule anthems whip the holiday spirit forward today with host Ian Christe (Sound of the Beast, Bazillion Points) and carols by Halford, King Diamond, Lemmy, Chuck Billy, Ronnie James Dio, Venom, Fferyllt, Austrian Death Machine, Gods of Fire, and more!
PLAYLIST:
KING DIAMOND – "No Presents for Christmas" from NO PRESENTS FOR CHRISTMAS
HALFORD – "I Don't Care If It's Christmas Night" from HALFORD III: WINTER SONGS
RONNIE JAMES DIO – "God Rest Ye Merry Gentlemen" from WE WISH YOU A METAL XMAS
LEMMY – "Run Rudolph Run" from WE WISH YOU A METAL XMAS
TRANS-SIBERIAN ORCHESTRA – "Wizards of Winter" from THE LOST CHRISTMAS EVE
VENOM – "Black Christmas" from METALPUNK
220 VOLT – "Heavy Christmas" from MADE IN JAMTLAND
HALFORD – "Get Into the Spirit" from HALFORD III: WINTER SONGS
FFERYLLT – "Yule" from A CELTIC TALE
AUSTRIAN DEATH MACHINE – "Jingle Bells"
AUGUST BURNS RED – "Little Drummer Boy" from SLEDDIN HILL
CHUCK BILLY AND OTHERS – "Silent Night" from WE WISH YOU A METAL XMAS
GODS OF FIRE – "Hanukkah Gone Metal" from HANUKKAH GONE METAL
Bloody Roots is Ian Christe's weekly heavy metal history show on Sirius XM Liquid Metal channel 40. Since June 2004, each week's show has examined another subgenre, band, movement, country, or theme. The show is available on-demand from SiriusXM.com.