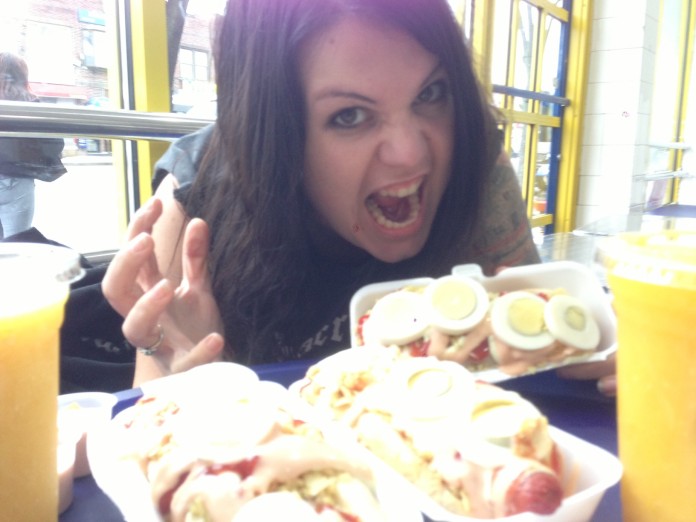 If you thought our 2012 author lists from Jon "Metalion" Kristiansen, Tesco Vee, and Jeff Wagner were filled with chaos, madness, and aggression, just wait 'til you experience the total doom and gloom that caught the attention of Hellbent for Cooking mastermind, Morbid Tales zine editor, Cauchemar singer, and all-around metal wizard Annick "the Morbid Chef" Giroux this year. Annick is one of the cheeriest and most life-loving people around, but she craves her metal as dark as her Montreal smoked meat is tender. After devouring her recap of the year in metal, grab a copy of Hellbent For Cooking with bonus drinking coasters HERE.
"The past year 2012 was not a very good year for metal, at least compared to 2011, but a few classic gems still saw the light of day! Funny enough, the albums that impressed me the most were mostly depressing doom metal releases. Anyway, check out these solid records, they will surely not disappoint!"
[svensk]BMDn-kExA3s[/svensk]
5. Occultation – Three & Seven
"This is a truly original release of reverb-tinted eerie doom metal. A strong album with a thick, macabre atmosphere."
[svensk]-qG-UcQeP7g[/svensk]
4. Bedemon – Symphony of Shadows
"Believe it or not, after all these years this is the first real Bedemon album. The production is kind of weird, but the songs—which clearly were not written in recent years—are totally killer. Insanely good riffs, great vocals, and overall great atmosphere."
[svensk]_bH-bnv-pxQ[/svensk]
3. Northwinds – Winter
French Doomsters Northwinds have totally surpassed themselves with this album. Prog, NWOBHM, and French folk influences make one hell of an addictive mix. Every time I listen to this record, I find myself discovering new things—it's a great one for sure.
[svensk]2cYZMmXYkTI[/svensk]
2. Black Magician – Nature Is the Devil's Church
"Imagine Forest of Equilibrium era-Cathedral mixed with black and white Italian horror movies. This is a real fantastic record that will transport you to places far, far beyond this world."
[svensk]h1FGsiWssig[/svensk]
1. Reino Ermitaño – Veneración del Fuego" –
"My favorite release of the year, this heavy-as-hell doom metal album has magical riffs and great psychedelic parts. It's a really unique album in the genre, and one that I will be listening for the rest of my life."
Honorable mentions:
Nekromantheon – Rise, Vulcan Spectre
Master's Hammer – Vracejte Konve na Misto
Christian Mistress – Possession
Morbus Chron – A Saunter Through the Shroud EP
Genocide Shrines – Devanation Monumentemples EP
Mgla – With Hearts Towards None
Iron Dogs – Cold Bitch
Above: Annick Giroux faces a table of over-the-top Colombian hot dogs at Perrada de Chalo, Queens, NY (across the street from the old Castle Heights venue).
HELLBENT FOR COOKING: The Heavy Metal Cookbook, by Annick "the Morbid Chef" Giroux