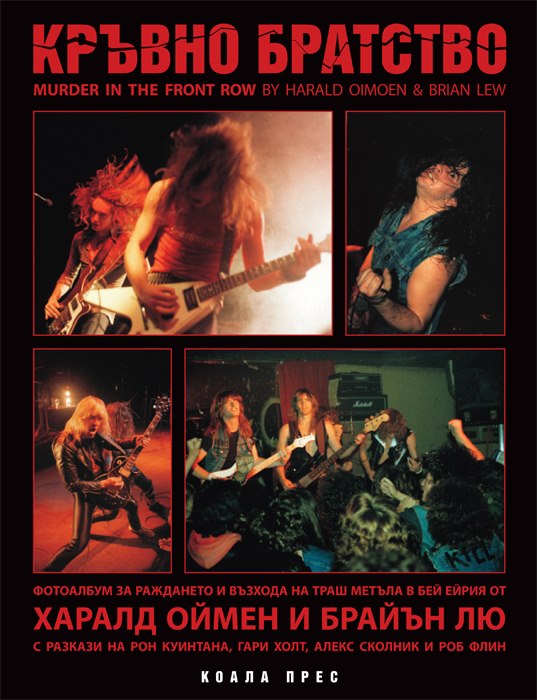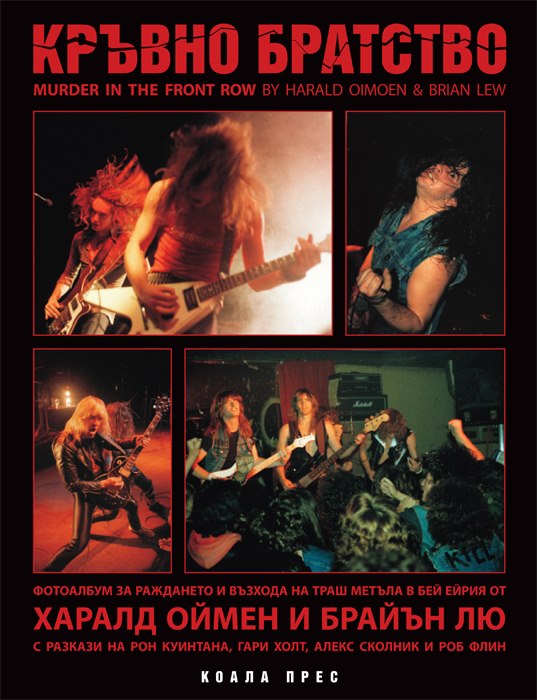 Bazillion Points Books, Koala Press, and Plovdiv University are proud to announce the return of the Big 4 to Bulgaria—in raw, original photo history book form. Harald Oimoen (D.R.I.) and Brian Lew (Whiplash zine)'s mammoth landmark Murder in the Front Row: Shots From the Bay Area Thrash Metal Epicenter will be available in Bulgarian translation during January 2013 with essays by Ron Quintana, Gary Holt (Exodus), and Robb Flynn (Machine Head, Vio-Lence).
"We are fans of this type of music and were extremely interested, so we decided to publish it in Bulgaria," says Dinko Stoychev from Sofia/Plovdiv-based Koala Press. "After receiving a copy of the book, we found out that we came upon a real treasure, with many unknown facts from the dawn of thrash metal, down to the appearance of groups and their lifestyle. The album is a great gift to every fan." The book will be produced with the help of Plovdiv University.
In June 2010, "The Big Four" thrash metal bands Metallica, Slayer, Megadeth, and Anthrax (all featured prominently in the book) performed together in Sofia, Bulgaria, a performance which was shown theatrically in over 800 theaters worldwide and released on DVD.
For more details on the Bulgarian edition of Murder in the Front Row, please visit Koala Press at this location.
Published in English by Bazillion Points Books in January 2012, this stunning volume collects over 400 amazing color and black-and-white photos from the time when locals Exodus and Los Angeles transplants Metallica reigned in small clubs like the Old Waldorf, The Stone, and the infamous East Bay bastion of heaviness, Ruthie's Inn. Thrash metal upstarts Slayer and Megadeth found a second home in the Bay Area, while a homegrown breed of tempo-crazed teenagers like Legacy, Possessed, Death Angel, Heathen, and Vio-lence brought Bay Area thrash metal to critical mass.
"Thank you for writing this book! It's the definitive story of the scene and what we managed to make of it here in the Bay Area."—Kirk Hammett, Metallica
"Murder in the Front Row captures the true essence of thrash metal in its embryonic stage."—Dave Lombardo, Slayer
http://www.murderinthefrontrow.com