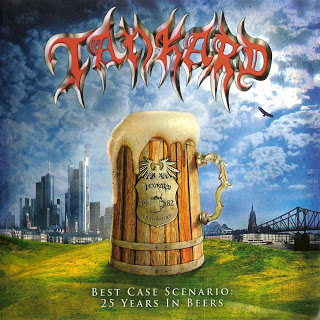 BLOODY ROOTS FULL METAL SALUTE TO BEER
Week of December 29, 2012
Sat, 12/29 @ 6pm ET
Sun, 12/30 @ 2pm ET
Tues, 1/1 @ 3pm ET
Thurs, 1/3 @ 9pm ET
This week's heavy metal history lesson reveals exclusively, after years of study, the liquid link discovered by leading scientists between heavy metal music and the ancient golden nectar, beer. From the frothy ales of South America to the powerful lagers of Germany and the solid stouts of England, host Ian Christe (Bazillion Points Books) leads a litter of metal madness awash in the spirits of the night. Join us for jolly rollicking drinking songs by Tank, Motorhead, Municipal Waste, Amebix, Barbatos, Tankard, Korpiklaani, Zimmers Hole and many more! Know and chug your roots!
PLAYLIST:BARBATOS – "Satanik Beer" from ROCKING METAL MOTHERFUCKER
ATROPHY – "Beer Bong" from SOCIALIZED HATE
MURPHY'S LAW – "Attack of the Killer Beers" from MURPHY'S LAW
BULLDOZER – "Another Beer (Its What I Need)" from FALLEN ANGEL EP
ZIMMERS HOLE – "That's How Drunks Drink" from LEGION OF FLAMES
NORDHEIM – "Beer, Metal, Trolls and Vomit!" from LOST IN THE NORTH
KORPIKLAANI – "Bring Us Pints Of Beer" from KARKELO
TANK – "Blood, Guts & Beer" from FILTH HOUNDS OF HADES
MOTORHEAD – "Beer Drinkers and Hell Raisers" from HUNGRY YEARS
WEHRMACHT – "Beermacht Pt. 1 (demo)" from BEERMACHT DEMO 1986
TANKARD – "Frankfurt: We Need More Beer" from THE BEAUTY AND THE BEER
CLAIM THE THRONE – "Set Sail On Ale" from ALE TALES EP
MUNICIPAL WASTE – "Beer Pressure" from THE ART OF PARTYING
WASTEOID – "Drink In Hand" from THIS COMP KILLS FASCISTS VOL 1.
SARCOFAGO – "Sex, Drinks, & Metal" from ROTTING
DR. ACULA – "Party 2.0" from SLANDER
FINAL CONFLICT – More Beer" from ASHES TO ASHES
AMEBIX – "Drink + Be Merry" from ARISE!
BETHLEHEM – "Yesterday I Still Had A Beer Today" from REFLEKTIONEN
TURISAS – "One More" from BATTLE METAL (DELUXE EDITION)
Bloody Roots is Ian Christe's weekly heavy metal history show on Sirius XM Liquid Metal channel 40. Since June 2004, each week's show has examined another subgenre, band, movement, country, or theme. The show is available on-demand from SiriusXM.com.