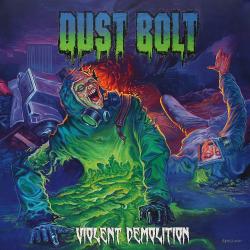 BLOODY ROOTS RECAPS THE BEST METAL DEBUTS OF 2012
Week of January 5, 2013
Sat. 1/5, 6PM ET
Sun. 1/6, 2PM ET
Tues. 1/8, 3PM ET
Thurs. 1/10, 9PM ET
This week's heavy metal history lesson is a recap of 2012's blazing debuts, a tribute to the variety of metal in the modern age that runs the gamut from expansive doom, frenetic death metal, hateful black metal, and over-the-top thrash, to impressive new hybrids of all of the above. Freshly minted tracks by Primate, Dodecahedron, Serpentine Path, Agruss, Binah, Dust Bolt, Christian Mistress, Grand Supreme Blood Court, and more!
PLAYLIST:
BLOODSHOT DAWN – "Godless" from BLOODSHOT DAWN
PRIMATE – "March of the Curmudgeon" from DRAW BACK A STUMP
DODECAHEDRON – "I, Chronocrator" from DODECAHEDRON
CHRONOSPHERE – "Envirusment" from ENVIRUSMENT
DESCRAVITY – "Immortals Warfare" from IMPLICIT OBEDIENCE
GRAND SUPREME BLOOD COURT – "Piled Up for the Scavengers" from BOW DOWN BEFORE THE BLOOD COURT
CHRISTIAN MISTRESS – "Possession" from POSSESSION
MUTILATION RITES – "Terrestrial Hell" from I AM LEGION
BINAH – "Dissolution" from HALLUCENATION IN RESURRECTURE
DUST BOLT – "Toxic Attack" from VIOLENT DEMOLITION
PALLBEARER – "An Offering of Grief" – from SORROW AND EXTINCTION
SERPENTINE PATH – "Bats Among Heathens" from SERPENTINE PATH
PSEUDOGOD – "Azazel" from DEATHWOMB CATECHESIS
AGRUSS – "Morok" from MOROK
Bloody Roots is Sound of the Beast author Ian Christe's weekly heavy metal history show on Sirius XM Liquid Metal channel 40. Since June 2004, each show has examined another subgenre, band, movement, country, or theme. The show is available on-demand online from SiriusXM.com.