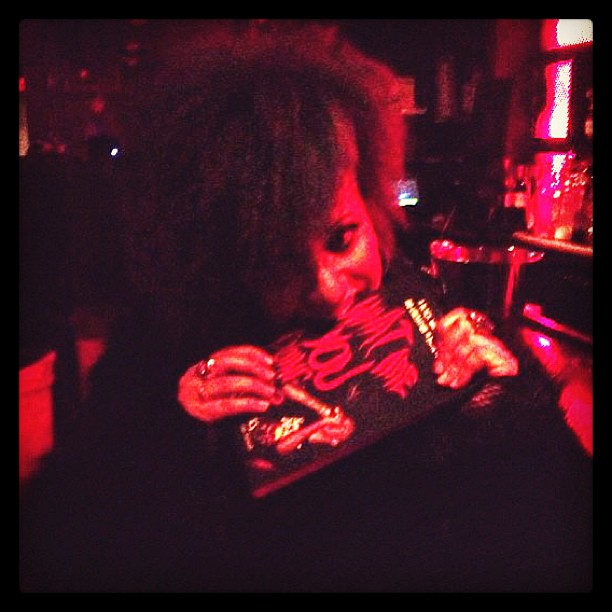 Above: Militia Vox of Judas Priestess devours What Are You Doing Here? (photo by Laina Dawes)
The Black Rock Coalition marked this Martin Luther King, Jr., Day, 2013 with the Million Man Mosh II, a benefit concert featuring Living Colour, former In-Effect recording act 24-7 Spyz, the legendary Nona Hendryx, and a host of other acts and luminaries. Laina Dawes, author of What Are You Doing Here?: A Black Woman's Life and Liberation, set up a table to sell books on behalf of the BRC. Turns out, people have been paying attention to her NPR, WNYC, CBC, and Sirius XM appearances, and the night became a celebration of her unique metal memoir. As Dawes reports:
Tonight was a BLAST. The BRC put on an amazing fundraising event for Donavan Drayton, who seems like such a sweet kid. Nona Hendryx, 24-7 Spyz, Living Colour, and special guests the Sugarhill Gang made sure I danced my ass off from beginning to end. In addition I was able to hang with MilitiA, Kudisan Kai, and Earl and Laronda from the BRC. But the best part? Vernon Reid introduced himself to ME. ME. Wow!
Meanwhile, hundreds of comments on articles on What Are You Doing Here? at NPR.org, MetalSucks.net, and Dangerous Minds are proof that—whether the metal world knew it or not—Laina Dawes speaks for lot of people in her book. Cheers to a long-laboring author on a work well done.