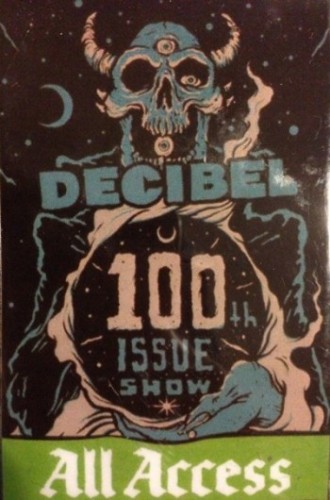 BLOODY ROOTS SALUTES DECIBEL MAG's 100th ISSUE
Week of January 19, 2013
Jan. 19, 6PM ET
Jan. 20, 2PM ET
Jan. 22, 3PM ET
Jan. 24, 9PM ET
As Decibel magazine celebrates its 100th issue, your weekly heavy metal history lesson Bloody Roots recaps a recent interview with Decibel editor Albert Mudrian. Host Ian Christe draws out the disturbing truth with stories about Decibel, the Precious Metal book, Mudrian's Spanish language history of grindcore and death metal Eligiendo Muerte, and the magazine's enduring Hall of Fame series. Congratulations to our brethren in metal history—know your Roots!
PLAYLIST:
BLACK SABBATH – "Neon Knights" from HEAVEN AND HELL
ENTOMBED – "Left Hand Path" from LEFT HAND PATH
OBITUARY – "Chopped in Half" from CAUSE OF DEATH
DARKTHRONE – "Transilvanian Hunger" from TRANSILVANIAN HUNGER
CONVERGE – "Heaven in Her Arms" from JANE DOE
MONSTER MAGNET – "Dopes to Infinity" from DOPES TO INFINITY
PARADISE LOST – "Gothic" from GOTHIC
REPULSION – "The Stench of Burning Death" from HORRIFIED
BRUTAL TRUTH – "Godplayer" from NEED TO CONTROL
Bloody Roots is Sound of the Beast author Ian Christe's heavy metal history show on Sirius XM Liquid Metal channel 40. Since June 2004, each weekly show has examined another subgenre, band, movement, country, or theme. The show is available on-demand online from SiriusXM.com.