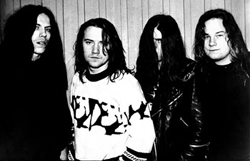 Daniel Ekeroth in Swedish Death Metal states that four of the very best Swedish bands never actually recorded any albums: Evocation, Crematory, Nirvana 2002, and Interment. Much has happened in the five years since the release of Ekeroth's book. Evocation and Interment have actually recorded new material, and Nirvana 2002 played its very first live show (at the book release party). As we continue our journey throughout the band appendix of Swedish Death Metal, join us for an eternity of INTERMENT!
"This Avesta band rose from the ashes of the primitive Beyond around 1990. Their style is pure Swedish death metal the way it should be done. All the musicians are great, and the songwriting is even better. Oh fucking yes, this is what death metal is all about! It's a shame these guys never made it, because they were so incredibly good. One of the best Swedish death metal bands ever. Brutal as fuck. Jansson and Englund continued their deadly mission in Dellamorte and Centinex. Englund was also in the great Uncanny. During the 2000s Interment has rehearsed some, and a new demo has recently been recorded. You better make damn sure you get it!"
Pick up a hardcover copy of Daniel Ekeroth's book with a bonus woven patch RIGHT HERE!