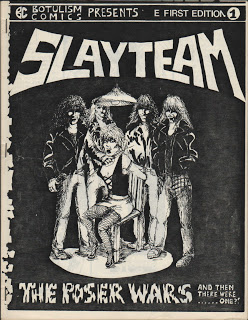 [issuu layout=http%3A%2F%2Fskin.issuu.com%2Fv%2Fdarkicons%2Flayout.xml showflipbtn=true documentid=130131204510-e53754c28c484eb5bce990060c5780b9 docname=slay_team_comic username=bazillionpoints loadinginfotext=Exodus%20Slay%20Team%20Comic%201985 showhtmllink=false tag=exodus width=420 height=271 unit=px] 
Wow, this crisp and clean chunk of true thrash metal treasure just came crashing through the Bazillion Points virtual mail slot. With the help of Bay Area tour manager extraordinaire Doug Goodman, Murder in the Front Row: Shots From the Bay Area Thrash Metal Epicenter coauthor Brian Lew adds the above pristine reproduction of Exodus's 1985 "Slay Team" fan comic to his impressive list of old school artifacts.
Created by Lizzy Green, a member of Exodus's inner circle during the hectic Bonded by Blood days, this lengthy black and white saga portrays four members of the band (yes, bassist Rob McKillop was reportedly bummed to be excluded!) as they slash, assault, and mow down the poodle-haired metal posers spreading falseness instead of relentless metal mania. This is truly legendary stuff, madness from inside the wild minds whose crazed faces you see on every page of the Murder in the Front Row book.
As guitarist Gary Holt explains in Sound of the Beast: The Complete Headbanging History of Heavy Metal:
"Our singer's ex-girlfriend was a really good cartoonist, and she drew up these comics that showed us knifing and beating up Mötley Crüe clones. We were constantly drinking and chain-sawing and jack-hammering people to death. They were just for our own amusement, and then it spread off to our fans in the local club scene."
What's funny is that this comic fantasy wasn't too far from the disturbing reality! Paul Baloff stories, anyone?
Thank you, Brian Lew!