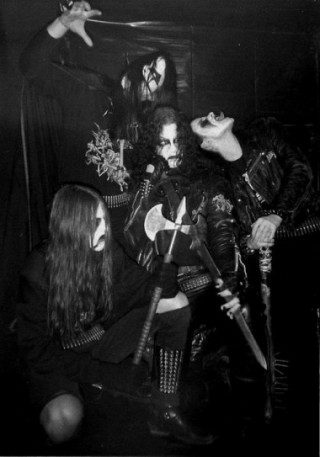 BLOODY ROOTS CELEBRATES BLACK METAL HISTORY MONTH
Week of February 2, 2013
Sat. 2/2, 6PM ET
Sun. 2/3, 2PM ET
Tues. 2/5, 3PM ET
Thurs. 2/7, 9PM ET
Back to the basics this week, as host Ian Christe ("Sound of the Beast"/Bazillion Points Books) hammers out an hour-long lesson in the roots and raw riches of black metal, from Venom in the 1980s to Norway in the 1990s to Deathspell Omega in modern France. Know your roots!
PLAYLIST:
VENOM – "Black Metal" from BBC RADIO ONE SESSIONS
BATHORY – "Equimanthorn" from UNDER THE SIGN OF THE BLACK MARK
HELLHAMMER – "Revelations (of Doom)" from SATANIC RITES
MERCYFUL FATE – "Black Funeral" from MELISSA
MAYHEM – "From the Dark Past" from DE MYSTERIIS DOM SATHANAS
DARKTHRONE – "Transilvanian Hunger" from TRANSILVANIAN HUNGER
EMPEROR – "Cosmic Keys to My Creations and Times" from IN THE NIGHTSIDE ECLIPSE
CRADLE OF FILTH – "Summer Dying Fast" from THE PRINCIPLE OF EVIL MADE FLESH
DISSECTION – "The Somberlain" from THE SOMBERLAIN
ABSU – "Pillars of Mercy" from TARA
DEATHSPELL OMEGA – "Diabolus Absconditus" from DIABOLUS ABSCONDITUS
For further study:
METALION: The Slayer Mag Diaries
SWEDISH DEATH METAL
ONLY DEATH IS REAL: An Illustrated History of Hellhammer and Early Celtic Frost
Bloody Roots is Sound of the Beast author Ian Christe's heavy metal history show on Sirius XM Liquid Metal channel 40. Since June 2004, each weekly show has examined another subgenre, band, movement, country, or theme. The show is available on-demand online from SiriusXM.com.