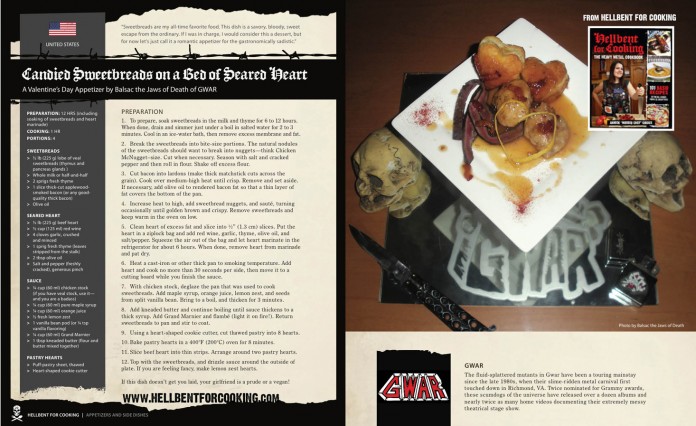 Happy Saint Valentine's Day! Following past recipe leaks by members of Mayhem and Autopsy, we're wearing our seared hearts on our plate this Feb. 14 with a challenging but "savory, bloody, sweet escape from the ordinary" dish submitted to Hellbent for Cooking: The Heavy Metal Cookbook by Balsac the Jaws of Death from Richmond, VA's, Gwar. Yes, the ingredients call for veal sweetbreads and beef hearts—what in Rome they call quinto quarto, or "the fifth quarter." You'll also need a heart-shaped cookie cutter.
This is one of the most advanced culinary adventures in Annick Giroux's Hellbent for Cooking book. "If this dish doesn't get you laid," boasts chef Balsac, "your girlfriend or boyfriend is either a prude or a vegan!"
To help you win your lover's heart by serving heart, we're offering Hellbent for Cooking at a 16.66% discount from our site until the morning after Valentine's Day—enter coupon code BALSAC at checkout, and good luck!
HELLBENT FOR COOKING: The Heavy Metal Cookbook