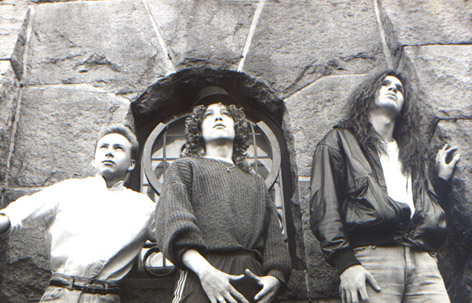 Among the many unsung heroes in the band index of Daniel Ekeroth's Swedish Death Metal lurk the criminally-overlooked and quixotic blackened death metal madmen MEFISTO. If Quorthon is the father and creator of extreme Swedish music, these guys are the mystical godfathers.
From Swedish Death Metal: "One of the very first brutal Swedish bands to follow the path laid out by Bathory, their cult status is firmly cemented. They started in Stockholm as Torment in 1984, but soon changed the name. As Mefisto, they created evil-sounding death/black metal to the limit. They were probably the first underground band in Sweden that got some attention, and they even had a manager to take care of their career. It obviously didn't work, since they never played live and only recorded two demos before vanishing. These demos have been released on CD by Blooddawn/Regain, and you better get their stuff if you want to know your history. A cult band if there ever was one."
In the main body of the book, Opeth main man Mikael Akerfeldt pipes in: "The singer who founded Opeth, David, gave me Mefisto's The Puzzle demo…I was completely floored. For me The Puzzle is the Scandinavian death metal super classic."
Jumping around the Bazillion Points library, Mefisto is also covered (naturally) in issue 3/4 of Jon "Metalion" Kristiansen's crucial fanzine Slayer Mag. As reprinted in METALION: The Slayer Mag Diaries, Kristiansen wrote in 1986: "To find any equal black metal, you would have to look around for a long time! In Scandinavia I guess only Mayhem and Bathory are this black. Their image will be pretty raw, consisting of heads on stakes butchered lambs, black candles, and many more fun things!"
As Daniel Ekeroth sadly notes in his book, Mefisto never played live, so the severed heads and black candles they had in storage were never used. But Metalion was right: To this day it remains hard to find more devilish-sounding music.
Hardcover copies of Swedish Death Metal are available HERE, shipping with a free woven patch.
For more Slayer Mag visions into the abyss of early death metal and black metal, check out heavy-ass compilation METALION: The Slayer Mag Diaries.