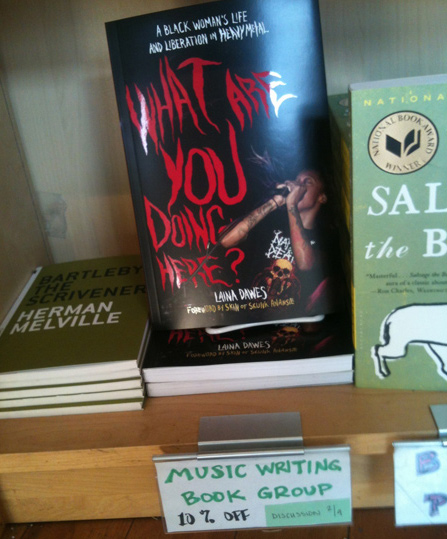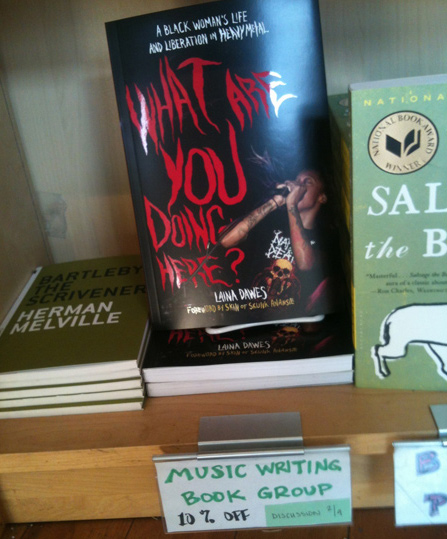 With Brooklyn's umpteen metal bars like Vitus, Duff's, and the Acheron, and an array of the country's best indie bookstores including Greenlight, Book Thug Nation, and BookCourt, your humble Bazillion Points is sitting sweet in the nexus of writing, reading, and RAGING!
The worlds of the pen and the pit are coming together this weekend, Saturday Feb. 9, at WORD Brooklyn [126 Franklin St., Greenpoint] as the beacon indie bookstore's Music Writing Book Group convenes to discuss Laina Dawes's What Are You Doing Here?: A Black Woman's Life and Liberation in Heavy Metal. If you are within a day's journey, please show up and represent! Hosts Daphne Carr and Tobias Carroll will be on hand to drum up a good discussion about a book that oozes talking points from every paragraph.
Check out the comments on NPR and Clutch Magazine. If you want to join the fun, WORD is stacked with copies and all book club purchases are 10% off. If you live far away—pick up a signed copy directly from Bazillion Points HERE.