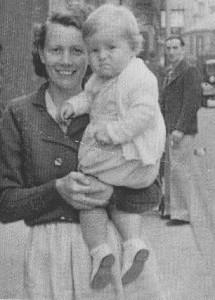 Former AC/DC bass player Mark Evans packed his autobiography Dirty Deeds: My Life Inside/Outside of AC/DC with invaluable, never-before read insights into the early formative days of the world's greatest rock and roll band. Sometimes it takes a second or third reading to catch all the shiny little nuggets of gold. Here's a second jackpot in honor of the date of Bon Scott's premature passing.
In February 1977, during the zenith of the scorching hot Australian summer, Evans accompanied Bon as the singer headed to Adelaide for a long-overdue visit to see his parents. At the house, doting mother Isa Scott told Bon that she was proud of his band, but, according to Mark Evans, like any mum she also slipped him a piece of her mind and "made it clear that she would like her son to write some 'nicer' lyrics."
Bless her, bless Bon, and thank heavens he didn't always heed her advice.