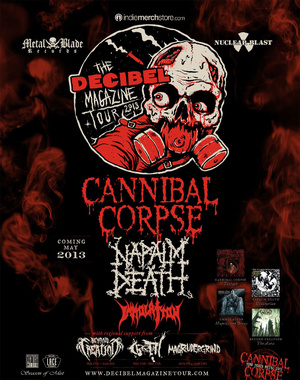 BLOODY ROOTS: DECIBEL MAGAZINE TOUR 2013 PREVIEW
w/special guest Albert Mudrian, editor-in-chief of Decibel
Sat 2/23, 6PM EST
Sun 2/24, 2PM EST
Tues 2/26, 3PM EST
Thurs 2/28, 9PM EST
This week's metal history lesson peeks into history-in-the-making, namely May 2013 when the Decibel Magazine Tour kicks off a 36-date North American assault with Napalm Death, Cannibal Corpse, and Immolation. Decibel editor-in-chief Albert Mudrian ("Choosing Death") joins host Ian Christe ("Sound of the Beast"/Bazillion Points) to explain the decisions behind bringing this decimation. Tracks from all three bands, plus regional support bands Cretin, Magrudergrind, and Beyond Creation. Know your Roots!
PLAYLIST:
Napalm Death – "Quarantined" from Utilitarian
Cannibal Corpse – "Devoured By Vermin" from Vile
Cannibal Corpse – "A Skull Full of Maggots" from Eaten Back to Life
Cannibal Corpse – "Dead Human Collection" from Bloodthirst
Immolation – "Father You're Not A Father" from Close to a World Below
Immolation – In Human Form" from Majesty and Decay
Immolation – Into Everlasting Fire" from Dawn of Possession
Magrudergrind – "Bridge Burner" from Magrudergrind
Napalm Death – Mass Appeal Madness from Mass Appeal Madness
Napalm Death – "The Infiltrator" from Words from the Exit Wound
Cretin – "Walking a Midget" from Freakery
Beyond Creation – "Omnipresent Perception" from The Aura
Bloody Roots is Sound of the Beast author (and Bazillion Points publisher) Ian Christe's heavy metal history show on Sirius XM Liquid Metal channel 40. Since June 2004, each weekly show has examined another subgenre, band, movement, country, or theme. The show is available on-demand online from SiriusXM.com.