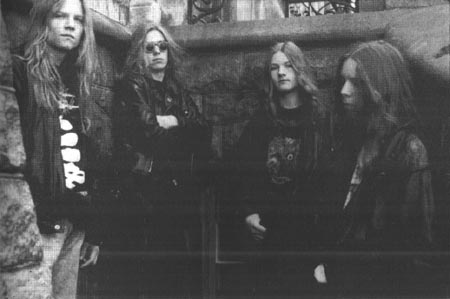 Like a good smörgåsbord, the band index of Daniel Ekeroth's Swedish Death Metal is highly diverse. New bands and old bands, good ones and horrible ones, obscurities and classics—the book appendix piles on a four-digit deluge of Swedish death metal groups listed with bios, discographies, and lineups. Here's another sample, some brutality from far afield of known territory by HETSHEADS.
Hetsheads - Remonstrating The Preserver
"Formed Johanneshov, August 1988, as the wonderfully named hardcore group Hetsheads with Hetsfaces and the Fuckfaces of Death. Now that is a name! The music gradually transformed into death metal, and their name shortened to just Hetsheads. Later, they changed their name to Blackshine and started playing punkish rock 'n' roll. Strokirk is now probably more known from Necrophobic (or even Mykorrhiza)."
'Nuff said. For the full story of the legendary scene Hetsheads was part of, check out Swedish Death Metal.