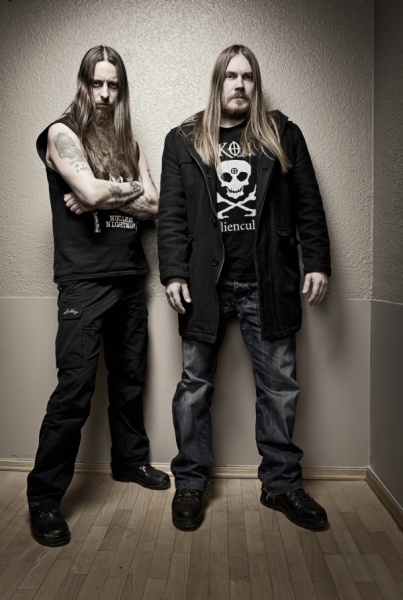 Bloody Roots of Darkthrone
Week of March 9, 2013
Sat 3/9, 6PM ET
Sun 3/10, 2PM ET
Tues 3/12, 3PM ET
Thurs 3/14, 9PM ET
In honor of their new record, The Underground Resistance, and 25 years of unrelenting exploration of metal by the band, this week's heavy metal history lesson honors Norway's infamous two-man battle brigade Darkthrone. Following the twists and turns of Fenriz and Nocturno Culto's fixations on black metal, death metal, punk, and traditional metal, host Ian Christe ("Sound of the Beast"/Bazillion Points) delivers a ripping rash of Darkthrone tracks including covers performed by Emperor, Satyricon, Gehenna, and Machetazo. Know your Roots!
PLAYLIST:
Darkthrone – Too Old Too Cold" from The Cult Is Alive
Darkthrone – "Soulside Journey" from Soulside Journey
Emperor – "Cromlech" from Darkthrone Holy Darkthrone
Darkthrone – "A Blaze In The Northern Sky" from A Blaze In The Northern Sky
Machetazo – "Skald Av Satans Sol" from Necrocovered
Gehenna – "Transilvanian Hunger" from Darkthrone Holy Darkthrone
Satyricon – "Kathaarian Life Code" from Darkthrone Holy Darkthrone
Satyricon w/Nocturno Culto – "Under A Funeral Moon" from Live at Wacken 2004
Darkthrone – "Leave No Cross Unturned" from The Underground Resistance
Bloody Roots is Sound of the Beast author (and Bazillion Points publisher) Ian Christe's heavy metal history show on Sirius XM Liquid Metal channel 40. Since June 2004, each weekly show has examined another subgenre, band, movement, country, or theme. The show is available on-demand online from SiriusXM.com.