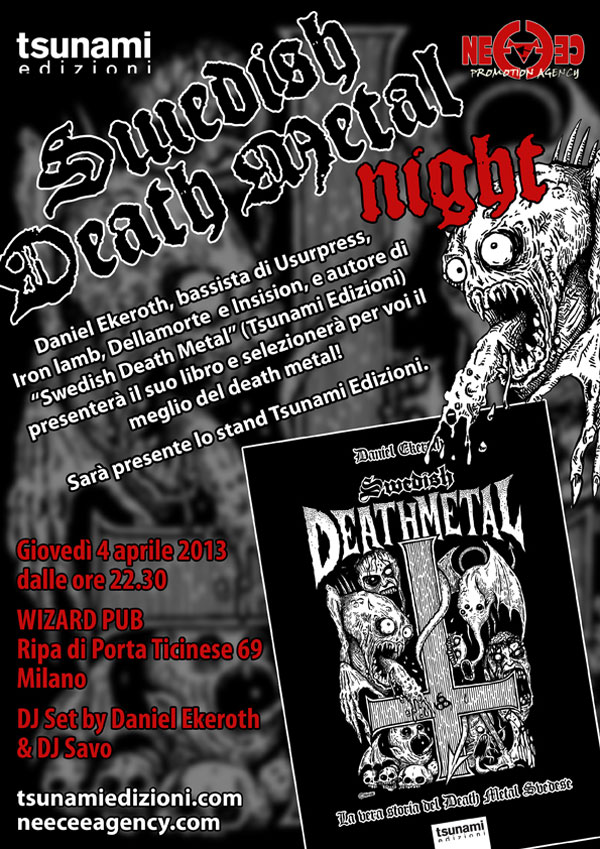 To celebrate the release of the Italian translation of Swedish Death Metal (via Tsunami Edizioni), author Daniel Ekeroth will return to Italy on April 4 to host the FREAKY SWEDEN! I sotterranei svedesi secondo party at Santeria wine bar (via Ettore Paladini, 8) in Milan. Since Daniel is also the deviant pen behind Swedish Sensationsfilms: A Clandestine History of Sex, Thrillers, and Kicker Cinema, the party will bring Southern Europe a sparkling celebration of the murkier cultural aspects of the cold Northern lands. The wine will flow like the mighty river Klarälaven, sensationsfilms trailers will shock even the most jaded Italian eyes, and the DJ will spin potent Swedish death metal to loosen the loins of everyone present.
RSVP via the Facebook event page: http://www.facebook.com/events/177210345760170/
Signed copies of Swedish Death Metal and Swedish Sensationsfilms both ship today from Bazillion Points, with bonus metal badges.