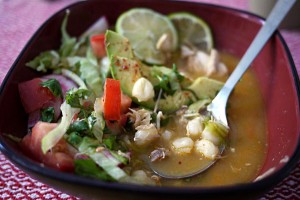 In her rabidly well-loved Hellbent For Cooking: The Heavy Metal Cookbook, Annick "The Morbid Chef" Giroux presents over a hundred infernal recipes from metal bands from every corner of the planet, creating a peerless meeting of metal and food. Metal mouths and food freaks devoured recipes and bands as diverse as Mummified Jalapeno Bacon Bombs from Autopsy's Chris Reifert, Candied Sweetbreads on a Bed of Seared Hearts by Balsac the Jaws of Death from Gwar, and Black Rose Jambalaya courtesy of Thin Lizzy guitar hero Scott Gorham. Here's an update!
Annick spent the past two years traveling around the world, playing some gigs with her doom/trad metal outfit Cauchemar, and feasting on local flavors. The Morbid Chef now knows an otherworldly amount about world metal and regional cooking. Pictured above is her mouthwatering take on a Mexican pozole stew. Combine these ingredients in a pot to make your own:
pork feet broth
dried chiles
hominy
chicken and pork meat
After cooking, cover with fresh cilantro, shredded lettuce, tomatoes, radish slices, fresh lime slices, and ripe avocados. Crack open your favorite Mexican beers and blast Cauchemar while cooking for full effect.
For 101 other basic recipes, get a signed copy of Hellbent for Cooking HERE. The book ships today with a free set of full-color Hellbent for Cooking/Morbid Chef drink coasters.