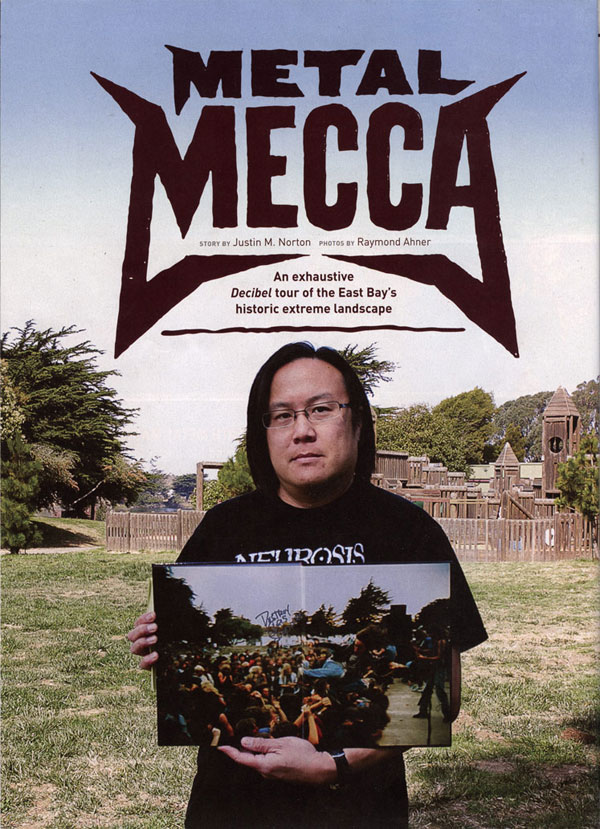 The April 2013 issue of Decibel includes one of the coolest magazine articles ever created, a jam-packed five-page spread by Justin M. Norton with photos taken by Raymond Ahner of Murder in the Front Row: Shots from the Bay Area Thrash Metal Epicenter authors Harald Oimoen and Brian Lew revisiting their old haunts. Thirty years after the photos in their awesome book were snapped, Oimoen and Lew hold the pages open to show the effects of time on Berkeley's Aquatic Park (site of an all-day Slayer/Exodus/Suicidal Tendencies pileup in 1984), the infamous Ruthie's Inn (where stagediving first came to metal shows), and the former Metallica mansion in El Cerrito (home of Cliff Burton's first rehearsal with the band and a monstrous amount of subsequent parties.
Where Metallica, Exodus, Megadeth, Slayer, and too many other bands to count cut their teeth, the crew found a few surprises. Where the crowd banged heads against the stage at Aquatic Park, some thrifty person has taken the bloody remnants and built a playground. Ruthie's Inn—"the birthplace of violence" according to Gary Holt—is now a bookstore. The cocktails of puke stains on the walls of Metallica's old bathroom have been scraped off, and replaced by shining tile (in case they ever come back). With every new Bay Area condo built on the site of a thrash metal garage, the importance of Harald and Brian's photos of the early days become more and more amazing.
Click the embedded link above to enjoy the article across your full screen, uploaded with mega-kind permission of Decibel. For the complete story of the early days of Bay Area thrash metal, Murder in the Front Row ships with an exclusive two-sided dustjacket/poster and can be ordered HERE.