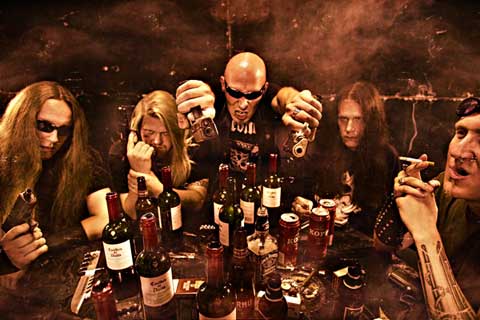 Bloody Roots of Finnish Metal
Week of April 27, 2013
Sat 4/27, 6PM ET
Sun 4/28, 2PM ET
Tues 4/30, 3PM ET
Thurs 5/2, 9PM ET
While Swedish death metal rules supreme, and Norwegian black metal inflames imaginations, Nordic neighbors in Finland have created a stunning roll call of top quality, highly original metal bands. Join host Ian Christe ("Sound of the Beast" / Bazillion Points Books) for a survey of Finnish innovators of folk metal, symphonic metal, funeral doom, ultra-techinical death metal, and more, with Amorphis, Nightwish, Skepticism, Demilich, Hanoi Rocks, Beherit, Babylon Whores, Children of Bodom, Ensiferum, and more. Know your Roots!
PLAYLIST:
Impaled Nazarene – Armageddon Death Squad" from All That You Fear
Hanoi Rocks – "Two Steps From the Move" from Million Miles Away
Stone – "Final Cuntdown / Overtake" from Stone
Beherit – "Nocturnal Evil" from Drawing Down the Moon
Amorphis – "Black Winter Day" from Tales from the Thousand Lakes
Ajattara – "Ilon Päivä" from Ilon Juhla
Demilich – "(Within) The Chamber Of Whispering Eyes" from Nespithe
Demigod – "Slumber of Sullen Eyes" from Slumber of Sullen Eyes
Skepticism – "The Curtain" from Alloy
Reverend Bizarre – "Doomsower" from In the Rectory of the Reverend Bizarre
Nightwish – "Ever Dream" from End Of An Era
Ensiferum – "In My Sword I Trust" from Unsung Heroes
Babylon Whores – "Somniferum" from Deggael (A Rat's God) EP
Children of Bodom – "Downfall" from Hatebreeder

Bloody Roots is Sound of the Beast author (and Bazillion Points publisher) Ian Christe's heavy metal history show on Sirius XM Liquid Metal channel 40. Since June 2004, each weekly show has examined another subgenre, band, movement, country, or theme. The show is available on-demand online from SiriusXM.com.