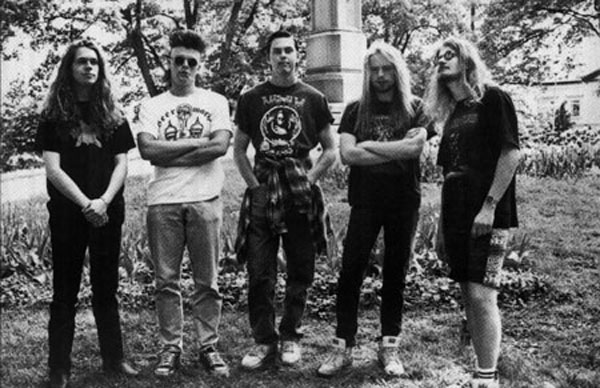 Once a week we reach down into the seemingly bottomless appendix of Swedish death metal bands from Daniel Ekeroth's primal book Swedish Death Metal to see what decaying corpse we can dig up. From the cultural metropolis of Västerås (hometown of at least one Bazillion Points operative), ABHOTH might not have been the most unique sounding band around. Their Autopsy-reeking death metal still kicked major ass, and they surely deserve a minute or two in the spotlight. Two members continue today in the formidable Bombs of Hades.
Abhoth-Darkness Greets-Amadeus -94.AVI
From Daniel Ekeroth's book: "Formed in Västerås back in 1989, and then known as Morbid Salvation Army, originally Abhoth played grindcore, but their style mellowed considerably over time. They only stayed together long enough to record one 7", the somewhat doomy The Tide. They continued as Chimera, releasing a demo as late as 1999. The high-pitched vocals of original singer Joakim Bröms were probably considered too "wimpy" in the early stage of Swedish death metal—the band never made it, even after his departure. Bröms joined the great Afflicted after deepening his vocals, while guitarist Kristensen and drummer Blyckert have worked with Suffer."
How many death metal band Sweden housed in the early 90s? Well, the book's band index lists over 1,000 entries. For the complete story of one of the most formidable metal scenes ever, check out: Swedish Death Metal asap!