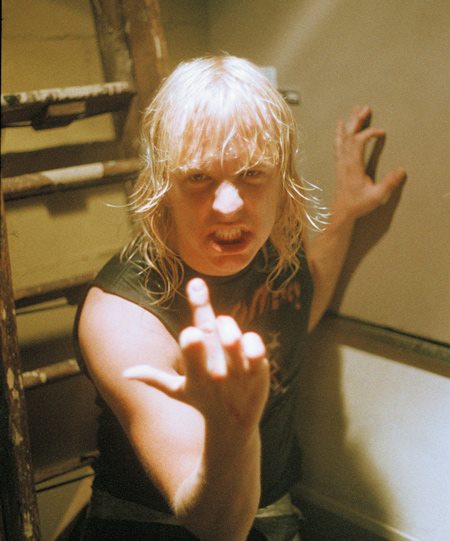 Photo by Harald Oimoen, from Murder in the Front Row
SiriusXM Bloody Roots Remembers Jeff Hanneman of Slayer
Week of May 4, 2013
Sat 5/4, 6PM ET
Sun 5/5, 2PM ET
Tues 5/7, 3PM ET
Thurs 5/9, 9PM ET
Heavy metal has lost a central pioneering figure with the passing of founding Slayer guitarist Jeff Hanneman. The creative force behind many of the band's best-known songs is gone at age 49, and this week Bloody Roots recaps many of Hanneman's most searing contributions to metal. Join us as host Ian Christe ("Sound of the Beast", Bazillion Points Books) opens a treasure chest of songwriting demos, punk solo project recordings, and live Slayer material, including Hanneman's final performance with the band. Thank you for listening, and know your Roots!
PLAYLIST:
SLAYER – "At Dawn They Sleep" from HELL AWAITS
SLAYER VS BLACK SABBATH – "Hand of Doom" from NATIVITY IN BLACK
PAP SMEAR – "Living Just to Die" from DEMO
JEFF HANNEMAN – "Spill the Blood" from DEMO
SLAYER – "Chemical Warfare" from THE ULTIMATE REVENGE
SLAYER – "Raining Blood" from STILL REIGNING
SLAYER AND JEFF HANNEMAN "South of Heaven/Angel of Death (live)" Indio, CA 4/23/11
SLAYER – "Divine Intervention" from LIVE INTRUSION

Bloody Roots is Sound of the Beast author (and Bazillion Points publisher) Ian Christe's heavy metal history show on Sirius XM Liquid Metal channel 40. Since June 2004, each weekly show has examined another subgenre, band, movement, country, or theme. The show is available on-demand online from SiriusXM.com.