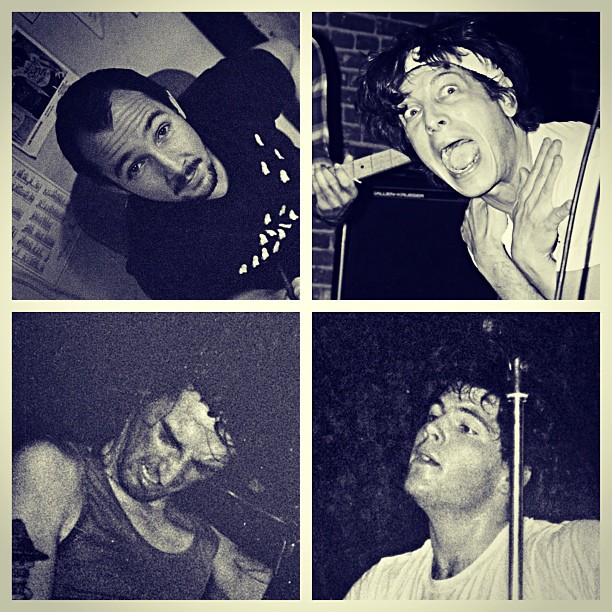 Above photos by Jordan Schwartz, except top right by the great Edward Colver
Hot on the heels of the release of Bazillion Points's lauded hardcore punk photo book and anthology We Got Power!: Hardcore Punk Scenes from 1980s Southern California, by David Markey and Jordan Schwartz, three contributing essay writers—Keith Morris, Dez Cadena, and Chuck Dukowski—have joined forces with fellow former Black Flag member Bill Stevenson and longtime Descendents guitarist Stephen Egerton in the highly-charged hardcore punk group Flag. Dozens of live and candid photos of Black Flag and the Descendents are also featured in We Got Power!, along with nearly 400 early shots of Circle Jerks, Redd Kross, Suicidal Tendencies, Gun Club, and countless others.
Not to be confused the current Black Flag lineup, the group simply called Flag will get in the van and bring the We Got Power! book's hardcore punk history to life during 2013 for more than a dozen North American tour dates as follows:
5/27 – Punk Rock Bowling, Las Vegas, NV
6/7  – Stage AE, Pittsburgh, PA
6/8 – Metallica's Orion Music + More Festival, Detroit, MI
6/9 – Grog Shop, Cleveland, OH
6/13 – Town Ballroom, Buffalo, NY
6/14 – NXNE Festival, Toronto, ON
6/15 – Amnesia Rock Fest, Montebello, QC
8/24 – FYF Fest, Los Angeles, CA
9/13 – First Avenue, Minneapolis, MN
9/16 – Baltimore Soundstage, Baltimore, MD
9/18 – Trocadero, Philadelphia, PA
9/19 – Irving Plaza, New York, NY
9/20 – The Paradise, Boston, MA
See you in the pit—party or go home!