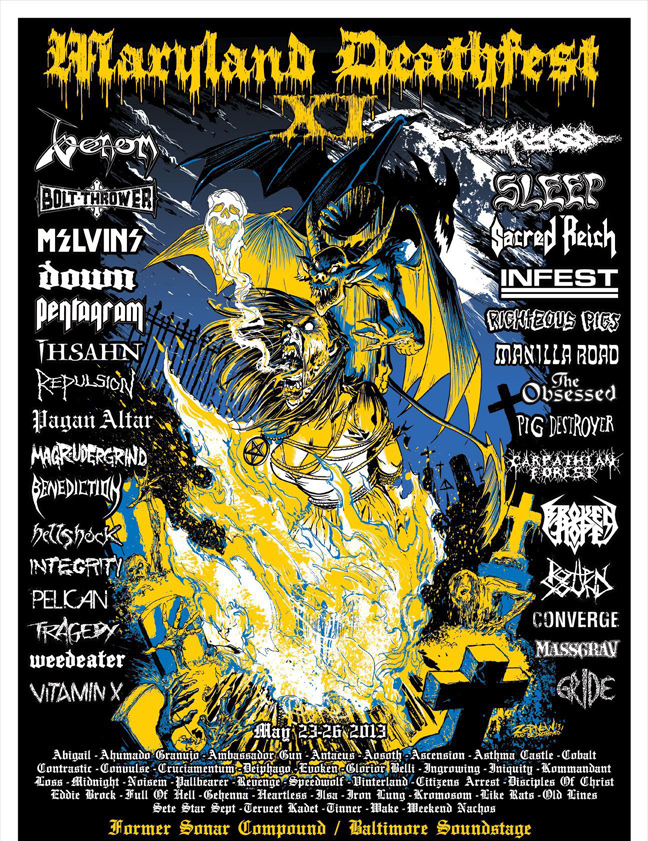 BLOODY ROOTS OF MARYLAND DEATHFEST XI 2013
Sat May 25, 6PM ET
Sun May 26, 2PM ET
Tues May 28, 3PM ET
Thurs May 30, 9PM ET
Join Bloody Roots host Ian Christe ("Sound of the Beast", Bazillion Points Books) slices open the MDF 2013 schedule, analyzing the living metal history of festival favorites like Bolt Thrower, Down, Sleep, Repulsion, and Carcass; cheering the comebacks of the Obsessed, Broken Hope, Infest, and Righteous Pigs; and illuminating the choice selections like Midnight, Hellshock, Scandinavian hardcore pioneers Terveet Kadet and Massgrav, and French extremists Antaeus and Aosoth. Prep for the fest, or enjoy the noise from afar… and know your roots!
Note: Ian Christe and Bazillion Points will be on hand at MDF XI to wage mayhem, settle all bets, and make sure the heaviest books of all time get into your eager hands. See you in Baltimore!
PLAYLIST:
Rotten Sound – "Salvation" from Species at War
Bolt Thrower – "Cenotaph" from War Master
Sleep – "The Druid" from Holy Mountain
Repulsion – "The Stench Of Burning Death" from Horrified
Melvins – "Night Goat" from Night Goat
Carcass – "Exhume To Consume" from Grind Crusher
The Obsessed – "Sodden Jackal" from Three-song 7″
Broken Hope- "Swamped in Gore" from Swamped in Gore
Infest – "Cold Inside" from Cold Inside
Righteous Pigs – "Ruinous Dump" from Stress Related
Convulse – "Incantation of Restoration" from World Without God
Hellshock – "Night Terrors" from Shadows of the Afterworld
Midnight – "Rip This Hell" from Satanic Royalty
Massgrav – "Chefens Lilla Hora Rider Igen" from Still the Kings
Terveet Kädet – "Transvestiitti" from Ääretön Propaganda
Antaeus – "Blood War III" from De Principii Evangelikum
Aosoth – "An Arrow In Heart" from IV
Sacred Reich – "Surf Nicaragua" from Surf Nicaragua
Down – "Witchtripper" from IV: The Purple EP
Bloody Roots is Sound of the Beast author (and Bazillion Points publisher) Ian Christe's heavy metal history show on Sirius XM Liquid Metal channel 40. Since June 2004, each weekly show has examined another subgenre, band, movement, country, or theme. The show is available on-demand online from SiriusXM.com.