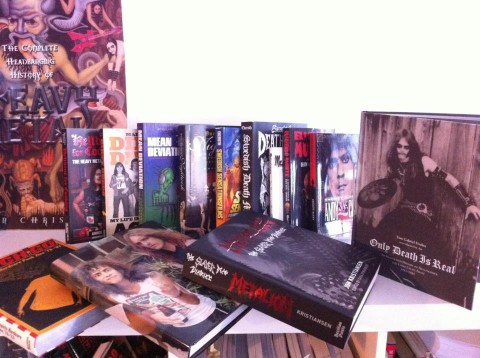 With the third Sunday in June coming down fast, we've noticed a lot of crap being peddled on behalf of fathers, and we'd like to get out in front of that avalanche of dumb hats, gift cards, and cheap tools with our own better offer. Put some slow-burning fuel on dear old Dad's fiery heart with something from our unrivaled shelf of masterpieces by the fathers of the metal, hardcore, and rock scenes.
And you should buy the guy a beer on us, so use coupon code FATHER at checkout to skim 16.66% off of great works by intensely revered authors like these:
Fathers of thrash metal: MURDER IN THE FRONT ROW: Shots From the Bay Area Thrash Metal Epicenter, by D.R.I. bassist Harald Oimoen and Whiplash editor Brian Lew, featuring the definitive early photos of Metallica, Slayer, Megadeth, Possessed, and many more;
Fathers of death metal: ONLY DEATH IS REAL: An Illustrated History of Hellhammer and Early Celtic Frost, by Tom Gabriel Fischer, driving force behind the most brutal of all musical revolutions;
Father of black metal: METALION: The Slayer Mag Diaries, a 744-page titan written by Jon Kristiansen, called "the godfather of Norwegian black metal" by Grutle Kjellson of Enslaved;
Fathers of hardcore punk: TOUCH AND GO: The Complete Hardcore Punk Zine '79–'83, by Tesco Vee and Dave Stimson, with 576 pages of frontline reporting from the hardcore punk explosion, plus contributions by Henry Rollins, Ian MacKaye, and more. And WE GOT POWER!: Hardcore Punk Scenes from 1980s Southern California, featuring 400 photos and essays by members of Circle Jerks, Adolescents, Vandals, Minutemen, Redd Kross, plus four members of Flag/Black Flag.
Father of glam metal: SHERIFF McCOY: Outlaw Legend of Hanoi Rocks, by founding guitarist Andy McCoy of the legendary Finnish rock n' roll band that inspired Guns 'N Roses and Mötley Crüe
Fathers of hard rock: DIRTY DEEDS: My Life Inside/Outside AC/DC, by Mark Evans, bassist in the classic early AC/DC lineup and confidant of every father's nightmare, the late Bon Scott
And our hilarious SWEDISH SENSATIONSFILMS book by Daniel Ekeroth contains plenty of information on how to go about fathering!
There you go. You're stuck with your father for a lifetime, might as well get him something that will last the whole way. And if you live in Fiji or Vanuatu, where this holiday doesn't come until September, we won't blame you for ordering early.