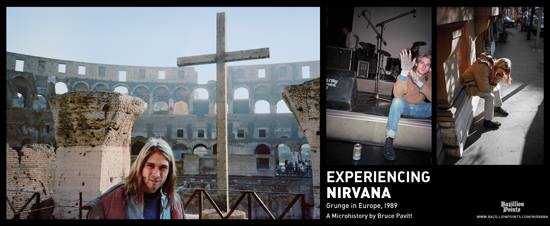 Photo by Bruce Pavitt, from Experiencing Nirvana
Bazillion Points Books is proud to announce the October 2013 deluxe hardcover release of EXPERIENCING NIRVANA: Grunge in Europe, 1989 (ISBN 978-1-935950-10-3). This intimate photo journal and wild grunge rock micro-history was shot and written by Bruce Pavitt, co-founder of Sub Pop Records, the legendary Seattle label that signed Nirvana in 1988. The book features over 200 live and candid color photos shot by Pavitt over a tumultuous one-week period on the Bleach tour from Rome to London with Nirvana, TAD, and Mudhoney. In addition, the book features a foreword by Keith Cameron (Mojo), and a portfolio of incredible never-seen live shots by acclaimed photographer Steve Double. Pre-orders will ship in October with a limited poster-sized dustjacket and a metal badge.
http://www.bazillionpoints.com/nirvana
On November 27, 1989, Bruce Pavitt and his Sub Pop partner Jon Poneman arrived in Rome to meet Nirvana, as the band was nearing the finish of a grueling six week tour of Europe. While determined to promote their grungy, riff-heavy debut album, Bleach, Nirvana's travels with fellow Sub Pop act TAD had left them exhausted. Pavitt and Poneman did their best to revive the spirits of frustrated and downcast Nirvana bandleader Kurt Cobain. While he nearly leapt from a 14-foot speaker tower one night, and then had his passport stolen, Cobain managed to continue to London, where Nirvana played the most important show of its young career.
The band's breakthrough performance at the 2,000-capacity Astoria Theatre, London, was meant to be a warm-up for sets by labelmates and hometown Seattle heroes Tad and Mudhoney. Openers Nirvana won over the crowd and changed the band's fate, as the then-powerful London music press proclaimed Nirvana: "Sub Pop's answer to the Beatles." With the support of the British press, Nirvana soon began work on their Nevermind record, which made Nirvana arguably the most important band of the 1990s. Incredibly, they almost broke up in Rome, which would have ended their career before it started. Bruce Pavitt was there, photographing the events onstage and off, and documenting the details in the hours before fame came calling.
Nearly twenty-five years later, Pavitt has opened this treasure trove to the public. "I put a lot of heart into this grunge rock 'microhistory'," he says. "I'm honored to be collaborating with Bazillion Points on a hardcover edition of this project."

EXPERIENCING NIRVANA: Grunge in Europe, 1989