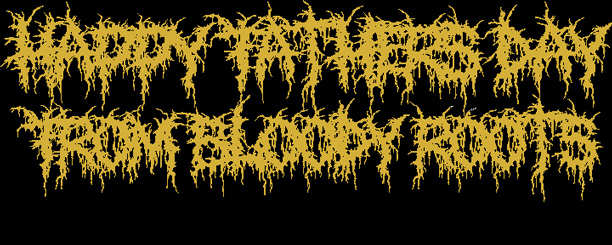 BLOODY ROOTS FATHER'S DAY SPECIAL
Week of June 15, 2013
Sat, June 15 6PM ET
Sun, June 16 2PM ET
Tues, June 18 3PM ET
Thurs, June 20 9PM ET
*** NOTE: Use code FATHER to save 16.66% on Bazillion Points Books until June 18 ***
Hails to metal dads! As metal tackles the mighty figures of history in search of subject matter, of course the role of fathers becomes fair game for heavy scrutiny. Join host Ian Christe (Bazillion Points / "Sound of the Beast") for a celebration of fatherhood and fathering, featuring the guiding lights of Black Sabbath, Bathory, Manowar, Altar, Orchid, Exodus, Immolation, Amon Amarth, Bestial Mockery, and more! Know your Roots!
PLAYLIST:
Amon Amarth – "Father of the Wolf" from Deceiver of the Gods
Manowar – "Defender" from Defender EP
Bathory – "Father To Son" from Hammerheart
Solefald – "The Death of Father" from Pills
Orchid – "Electric Father" from Capricorn
Exodus – "Like Father, Like Son" from Fabulous Disaster
Immolation – "Father You're Not A Father" from Close to a World Below
Laaz Rockit – "In the Name of the Father and the Gun" from Nothing$ $acred
Black Sabbath – "Sins Of The Father" from Dehumanizer
Patriarch – "Father Kreator" from Prophecy
Altar – "In The Name Of The Father" from In The Name Of The Father
Cadaver – "GoatFather" from Necrosis
Bestial Mockery – "Father In Heaven" from Gospel of the Insane
Black Sabbath – "Dear Father" from 13

Bloody Roots is Sound of the Beast author (and Bazillion Points publisher) Ian Christe's heavy metal history show on Sirius XM Liquid Metal channel 40. Since June 2004, each weekly show has examined another subgenre, band, movement, country, or theme in metal, punk, and heavy rock. The show is available on-demand online from SiriusXM.com.