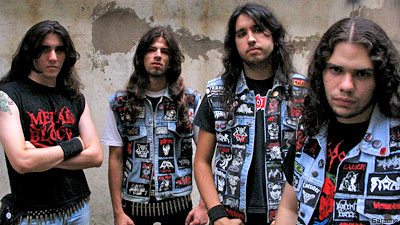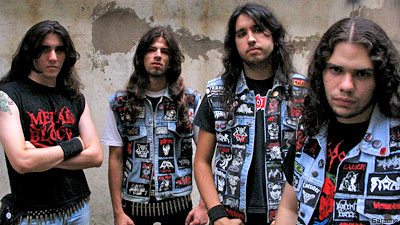 Bloody Roots of Brazilian Thrash Metal
Week of June 22, 2013
Sat 6/22, 6PM ET
Sun 6/23, 2PM ET
Tues 6/25, 3PM ET
Thurs 6/27, 9PM ET
As the people of Brazil take to the streets to protest government corruption, this week Bloody Roots host Ian Christe ("Sound of the Beast"/Bazillion Points) delves into the history of unrest captured by Brazil's legendary thrash metal legacy. Hear South American aggression from Sepultura, Sarcofago, Anthares, Violator, Holocausto, Torture Squad, the all-female Nervosa, Vulcano, and more! Know your Roots!
PLAYLIST:
Violator – "Futurephobia" from ANNIHILATION PROCESS EP
Anthares – "No Limite da Forca" from NO LIMITE DA FORCA
Sepultura – "Antichrist" from OVERDOSE SPLIT
Attomica – "Deathraiser" from DISTURBING THE NOISE
Sarcofago – "Deathrash" from I.N.R.I.
Vulcano – "Dominios of Death" from DOMINIOS OF DEATH
Dorsal Atlantica – "Thy Kingdom Come" from PROMO
Blasfemador – "Correntes do Mal" from ESTA NOITE ENCARNAREI NO TEU CADAVER
Metralion – "Disorder" from A MOSH IN BRAZIL
Holocausto "Campo De Exterminio" from CAMPO DE EXTERMINIO
Torture Squad – "Raise Your Horns" from AEQUILIBRIUM
Nervosa – "Masked Betrayer" from DEMO
Sodomizer – "Lucio Fulci" from JESUS IS NOT HERE TODAY
Slasher – Pray for the Dead" from PRAY FOR THE DEAD
Sepultura – Beneath The Remains" from UNDER SIEGE
Bloody Roots is Sound of the Beast author (and Bazillion Points publisher) Ian Christe's heavy metal history show on Sirius XM Liquid Metal channel 40. Since June 2004, each weekly show has examined another subgenre, band, movement, country, or theme in metal, punk, and heavy rock. The show is available on-demand online from SiriusXM.com.