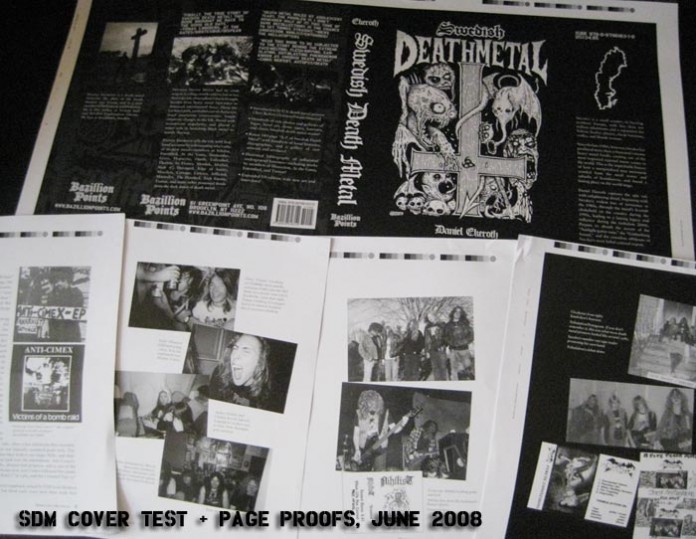 All through July, Bloody Roots launches its tenth year of weekly metal history lessons and celebrates five years of Bazillion Points Books with shows spotlighting heavy books from the Bazillion Points shelf. First off, Daniel Ekeroth's classic report on the world's most intense death metal scene!
BLOODY ROOTS OF THE HISTORY OF SWEDISH DEATH METAL
With Special Guest Daniel Ekeroth
Week of July 6, 2013
Sat 7/6, 6PM ET
Sun 7/7, 2PM ET
Tues 7/9, 3PM ET
Thurs 7/11 9PM ET
For this week's heavy metal history lesson, host Ian Christe ("Sound of the Beast") welcomes Daniel Ekeroth (author of "Swedish Death Metal"; bassist of Insision/Dellamorte/Tyrant/Iron Lamb) for a full-force recap of one of the world's greatest heavy metal scenes. Lock your vices and prepare for the flesh-ripping sounds of Grotesque, Dissection, Entombed, Bathory, Watain, At the Gates, Tyrant, and more!
PLAYLIST:
TYRANT – "The Rebirth" from RECLAIM THE FLAME
GROTESQUE – "Blood Runs From the Altar" from IN THE EMBRACE OF EVIL
MERCILESS – "Pure Hate" from THE AWAKENING
NIHILIST – "Abnormally Deceased" from ONLY SHREDS REMAIN
ENTOMBED – "Drowned" from LEFT HAND PATH
DISMEMBER – "Skin Her Alive" from LIKE AN EVER FLOWING STREAM
GRAVE – "Soulless" from SOULLESS
DISSECTION – "Where Dead Angels Lie" from STORM OF THE LIGHT'S BANE
EDGE OF SANITY – "The Enigma" from UNORTHODOX
AT THE GATES – "Terminal Spirit Disease" from TERMINAL SPIRIT DISEASE
MORBID – "Wings of Funeral" from DECEMBER MOON
BATHORY – "Equimanthorn" from UNDER THE SIGN OF THE BLACK MARK
WATAIN – "Sworn to the Dark" from SWORN TO THE DARK
DELLAMORTE – "Uglier and More Disgusting" from UGLIER AND MORE DISGUSTING
Bloody Roots is Sound of the Beast author (and Bazillion Points publisher) Ian Christe's heavy metal history show on Sirius XM Liquid Metal channel 40. Since June 2004, each weekly show has examined another subgenre, band, movement, country, or theme in metal, punk, and heavy rock. The show is available on-demand online from SiriusXM.com.