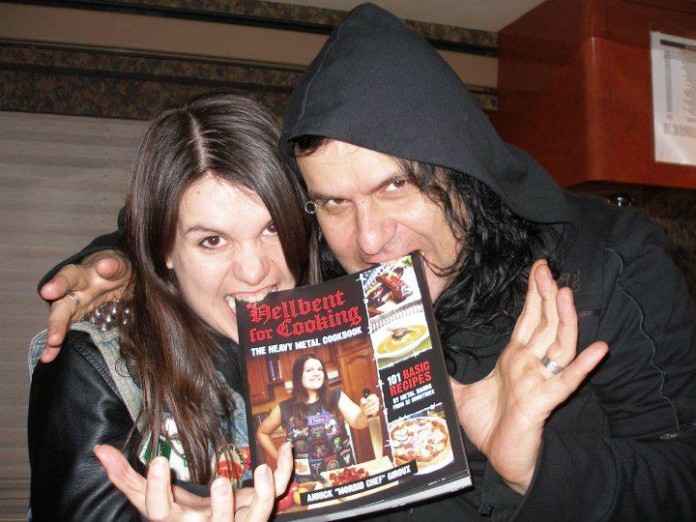 Above: Hellbent for Cooking author Annick Giroux w/contributing chef Mille Petrozza of Kreator
BLOODY ROOTS TASTE OF "HELLBENT FOR COOKING"
w/Special Guest Annick "Morbid Chef" Giroux
Week of July 13, 2013
Sat 6/13, 6PM ET
Sun 6/14, 2PM ET
Tues 7/16, 3PM ET
Thurs 7/18, 9pm ET
Launching Year 10 of Bloody Roots and celebrating five years of Bazillion Points metal books, "Death to false meals" is the battle cry this week. Host Ian Christe ("Sound of the Beast") welcomes guest Annick Giroux, author of HELLBENT FOR COOKING: The Heavy Metal Cookbook. A dedicated headbanger, Annick will explain how she collected over 100 favorite recipes from metal bands from 32 countries, including Thin Lizzy and Sepultura. Tracks by some of her chefs, including Nuclear Assault, Obituary, Amebix, Midnight, S.O.D., and more. Know your roots and eat your shoots!
PLAYLIST:
SIR LORD BALTIMORE – "Kingdom Come" from KINGDOM COME
AMEBIX – "Axeman" from ARISE!
AFTER THE BOMBS – "This Hell" from RELENTLESS ONSLAUGHT
S.O.D. – "Milk" from SPEAK ENGLISH OR DIE
AUTOPSY – "Charred Remains" from SEVERED SURVIVAL
OBITUARY – "Chopped in Half" from CAUSE OF DEATH
REPULSION – "Bodily Dismemberment" from HORRIFIED
BLASPHEMY – "Blasphemous Attack" from GODS OF WAR
SADISTIK EXECUTION – "Agonizing the Dead" from THE MAGUS
MANTAK – "Hellfernal Blasphemies" from 666
FUNEROT – "The Man With the Megaton Mind" from INVASION FROM THE DEATH DIMENSION
TANKARD – "Feed the Lohocla" from THE MORNING AFTER
NUCLEAR ASSAULT – "Hang the Pope" from LIVE SUFFER DIE DEMO
MIDNIGHT – "White Hot Fire" from TOTAL AND COMPLETE FUCKING MIDNIGHT
Bloody Roots is Sound of the Beast author (and Bazillion Points publisher) Ian Christe's heavy metal history show on Sirius XM Liquid Metal channel 40. Since June 2004, each weekly show has examined another subgenre, band, movement, country, or theme in metal, punk, and heavy rock. The show is available on-demand online from SiriusXM.com.