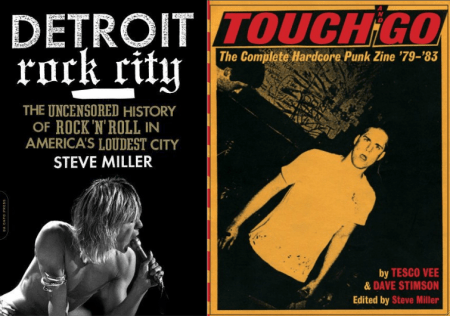 Good news sweaty people of Chicago, Indy, Cleveland, Detroit, and assorted gritty Michigan towns—your summers have been spared!
Literary punk rock frontmen Steve Miller and Tesco Vee, veterans of the unbridled musical sounds that made the Midwest famous, will appear together at a series of sweltering hot July and August events to talk about Miller's new oral history, Detroit Rock City: The Uncensored History of Five Decades of Rock 'N Roll in America's Loudest City (Da Capo). The two will also have plenty to say about the classic punk rock tome Touch and Go: The Complete Hardcore Punk Zine '79-'83 (Bazillion Points), the 576-page monsterpiece written by TV and edited by Miller. Special effects, loud noises, and signing of hardcore punk rarities will be part and parcel of this audience with the ringmasters of heavy rock and hardcore history. Clear your calendars as follows:
Fri July 26, 7PM, Quimby's
1854 W. North Ave., Chicago
Sat July 27, 4PM, Vibes Music
1051 E 54th St., Indianapolis
Sun July 28, 4PM, My Mind's Eye
16010 Detroit Ave., Lakewood, OH
Sat, August 3, 4PM, Vertigo Music
129 Division Ave S, Grand Rapids, MI
Sat, August 17, 2PM, UHF Music
512 S Washington Ave, Royal Oak, MI
Weds July 31, 7PM, Schuler's Books and Music
2820 Towne Centre Blvd., Lansing, MI
Steve Miller is a noted true crime author, award-winning investigative journalist, and former singer of hardcore punk legends the Fix. In Detroit Rock City, Miller spins a tale of rust belt rebellion culled from hundreds of hours spent interviewing a litany of rock titans, from Alice Cooper and Iggy Pop to Jack White and John Brannon. Miller does the walkin' and lets the principals do the talkin' as he creeps through 50 years of hard rockin' magnificence from the "Mitten."
Tesco Vee is the irascible, ageless, iconic punk rock impresario, renaissance man, and founder of Touch and Go. His band The Meatmen continue to amaze and astound. His rapier wit will be on full display.
Detroit Rock City is …A sharply edited oral history that nails most of the major players and includes the inherent contradictions in each person's account of how history went down, it offers up that singular Detroit attitude that somehow fuses an inferiority/superiority complex into something loud, aggressive, and delightfully unique. Not to be crude, but– holy crap. – Dave DiMartino, former editor, Creem magazine
"Creem may have taught me how to piss, but Touch and Go taught me how to shit. I owe my career to that magazine."—John Brannon, Negative Approach