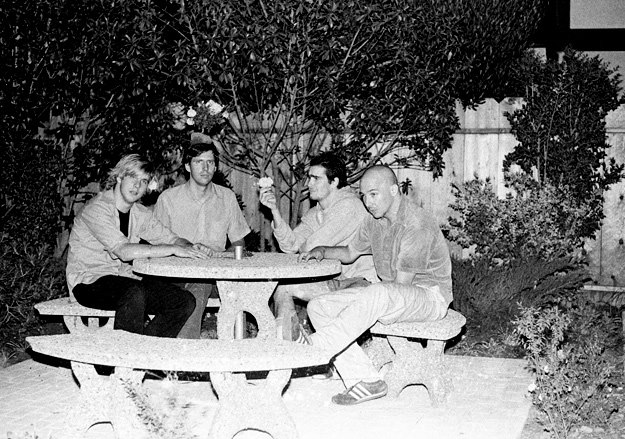 Above: Black Flag, from WE GOT POWER!
BLOODY ROOTS OF LOS ANGELES HARDCORE
Week of July 27, 2013
Sat. 7/27, 6PM ET
Sun. 7/28, 2PM ET
Tues. 7/30, 3PM ET
Thurs. 8/1, 9PM ET
Before there was thrash metal, there was hardcore punk, a dangerous, intense sub-breed of punk rock that clashed with police everywhere and turned music upside down. While glam bands paraded down Sunset Strip, greater Los Angeles became home to the nastiest breed of disaffected hardcore punks, bands like Black Flag, Circle Jerks, 45 Grave, D.I., the Vandals, Suicidal Tendencies, and countless others. This week host Ian Christe ("Sound of the Beast"/Bazillion Points Books) delivers a hardcore history lesson including all of these misfits and the metal bands they inspired, including Slayer, Converge, and Saint Vitus. Lace up your boots and know your Roots!
PLAYLIST
Black Flag – "I've Heard It Before" from The 7″ Inch Wonders Of The World
Fear – "I Don't Care About You" from The Record
Germs – "Land of Treason" from (GI)
Circle Jerks – "Coup d'Etat" from Golden Shower Of Hits
Adolescents – "Rip It Up" from Adolescents
Saccharine Trust – "We Don't Need Freedom" from Pagan Icons
Social Distortion – "The Creeps" from Mommy's Little Monster
The Vandals – "H.B. Hotel" from Peace Thru Vandalism
Sin 34 – "Not" from Do You Feel Safe?
Angry Samoans – "Lights Out" from Back From Samoa
Redd Kross – "Linda Blair" from Born Innocent
Descendents – "Pervert" from I Don't Want To Grow Up
Suicidal Tendencies – "Suicide's An Alternative" from Demo
Circle Jerks – "American Heavy Metal Weekend" from Wonderful
45 Grave – "Party Time" from Sleep in Safety
Overkill SST – "Hell's Getting Hotter" from 7″
Wurm – "We're Off" from The 7″ Inch Wonders Of The World
The Mentors – "Sandwich of Love" from You Axed For It!
D.I. – "Richard Hung Himself" from Team Goon
Suicidal Tendencies – "I Shot The Devil" from Suicidal Tendencies
Dr. Know – "God Told Me" from Plug-In Jesus
Slayer – "Mr. Freeze" from Undisputed Attitude
Black Flag – "Thirsty And Miserable" from Damaged
Saint Vitus – "Thirsty and Miserable" from Born Too Late
Converge – "Damaged" from Black On Black A Tribute To Black Flag
Off! – "Blast" from First Four EPs
Bloody Roots is Sound of the Beast author (and Bazillion Points publisher) Ian Christe's heavy metal history show on Sirius XM Liquid Metal channel 40. Since June 2004, each weekly show has examined another subgenre, band, movement, country, or theme in metal, punk, and heavy rock. The show is available on-demand online from SiriusXM.com.