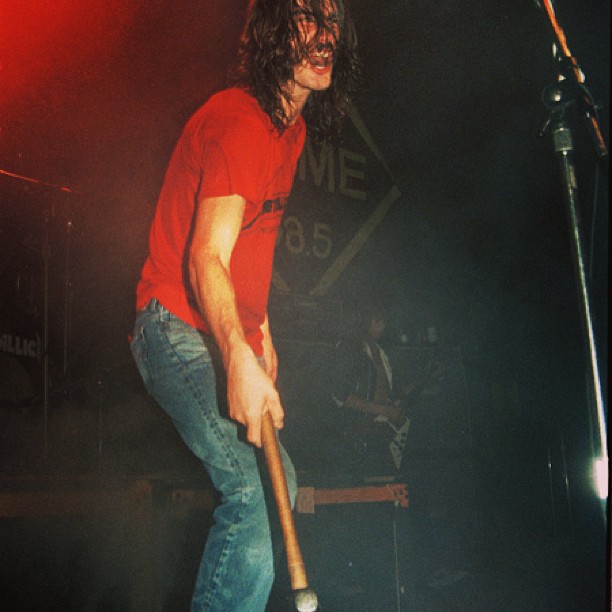 Above: "Bang That Head That Does Not Bang"–Rich "Banger" Burch, R.I.P. (photo by Brian Lew from Murder in the Front Row)
BLOODY ROOTS HAMMERS OUT 30 YEARS OF METALLICA'S KILL EM ALL
Week of August 3, 2013
Sat. 8/3, 6PM ET
Sun. 8/4, 2PM ET
Tues. 8/6, 3PM ET
Thurs. 8/8, 9PM ET
On July 25, 1983, a small independent record label released Metallica's debut album, Kill 'Em All. From humble beginnings, the album became a cornerstone of the emerging thrash metal movement, and has gone on to sell almost 10 million copies worldwide. This week host Ian Christe ("Sound of the Beast"/Bazillion Points Books) reconstructs the landmark album start-to-finish with tribute songs covered by Cannibal Corpse, Anthrax, Destruction, Primal Fear, Dew Scented, Toxic Holocaust, and more! Know your Roots!
PLAYLIST:
BLACK TIDE – "Hit the Lights" from LIGHT FROM ABOVE
TOXIC HOLOCAUST – "Mechanix" from TOXIC THRASH METAL
IRON HORSE – "Four Horsemen" from FADE TO BLUEGRASS
BURDEN OF GRIEF – "The Four Horsemen" from FOLLOW THE FLAMES
RAGE – "Motorbreath" from LIVE
DUST BOLT – "Jump in the Fire" from A TRIBUTE TO KILL EM ALL
ROBERT TRUJILLO – "Anesthesia (Pulling Teeth)" from ORION 6/8/13
DESTRUCTION – "Whiplash" from METAL DISCHARGE
ANTHRAX – "Phantom Lord" from A TRIBUTE TO THE FOUR HORSEMEN
CANNIBAL CORPSE – "No Remorse" from WORM INFESTED
PRIMAL FEAR – "Seek and Destroy" from A TRIBUTE TO THE FOUR HORSEMEN
DEW SCENTED – "Metal Militia" from DEMO
Bloody Roots is Sound of the Beast author (and Bazillion Points publisher) Ian Christe's heavy metal history show on Sirius XM Liquid Metal channel 40. Since June 2004, each weekly show has examined another subgenre, band, movement, country, or theme in metal, punk, and heavy rock. The show is available on-demand online from SiriusXM.com.