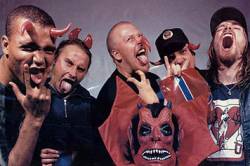 Bloody Roots of Death 'N Roll
Week of August 24, 2013
Sat 8/24, 6PM ET
Sun 8/25, 2PM ET
Tues 8/27, 3PM ET
Thurs 8/29, 9PM ET
Welcome to where the hammer meets the groove! As they matured, brutal death metal innovators like Entombed, Carcass, and the members of Furbowl rediscovered the sleazy groove of rock 'n roll. Combining down-tuned speed and power with hip-shaking action resulted in death 'n roll, and today's heavy metal history lesson delves into the wet leather of Dellamorte, Helltrain, Como Muertos, Desultory, Entombed, Furbowl, Hearse, and Carcass. Know your Roots!
PLAYLIST:
COMO MUERTOS _Matalos_ live at Chaulnes Metal Festival 2009
ENTOMBED – "Supposed to Rot" from Left Hand Path
ENTOMBED – "Full Of Hell" from Wolverine Blues
DELLAMORTE – "Plug Me In" from Uglier and More Disgusting
FURBOWL – "Baby Burn" from The Autumn Years
CARCASS – "Keep on Rotting In The Free World" from Swansong
HELLTRAIN – "Great Halls of Fire" from Rock n Roll Devil
PHAZM – "Mucho Mojo" from Cornerstone of the Macabre
HEARSE – Sundown" from Single Ticket to Paradise
MALIGNANT TUMOUR – "Earthshaker" from Earthshaker
WE ARE THE DAMNED – "Devorador Dos Mortos" from Holy Beast
DESULTORY – "Counting Our Scars" from Counting Our Scars
DEBAUCHERY – "Genocider Overkill" from Germany's Next Death Metal
Bloody Roots is Sound of the Beast author (and Bazillion Points publisher) Ian Christe's heavy metal history show on Sirius XM Liquid Metal channel 40. Since June 2004, each weekly show has examined another subgenre, band, movement, country, or theme in metal, punk, and heavy rock. The show is available on-demand online from SiriusXM.com.