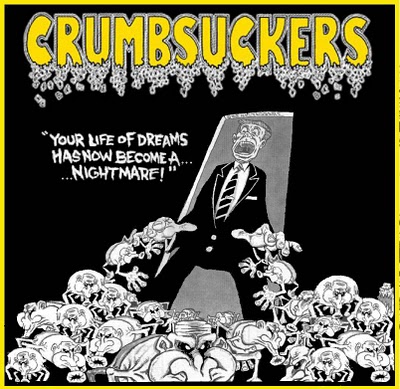 BLOODY ROOTS WORK AND METAL LABOR DAY SPECIAL
Week of August 31, 2013
Sat 8/31, 6PM ET
Sun 9/1, 2PM ET
Tues 9/3, 3PM ET
Thurs 9/5, 9PM ET
From paycheck to pink slip, from penthouse to park bench, this week's heavy metal history lesson celebrates the world of work and labor with songs by Iron Reagan, Crumbsuckers, Lich King, Darkthrone, D.R.I., English Dogs, Excel, Eyehategod, Fear Factory, Megadeth, and more! Workers of the world… know your Roots!
PLAYLIST:
Iron Reagan – "Paycheck" from DEMO 2012
Attitude Adjustment – "Working Class Pride" from American Paranoia and More
Crumbsuckers – "Live To Work" from Life of Dreams
Darkthrone – "I Am the Working Class" from Circle the Wagons
The Virus – "Working for the Company" from Nowhere to Hide
Phobia – "Taxes At Work" from Means of Existence
Lich King – "Wage Slave" from Born of the Bomb
Dirty Rotten Imbeciles – "Worker Bee" from Thrash Zone
Illdisposed – "Working Class Zero" from The Prestige
English Dogs- "Death's a Career" from This Is Not a War?
M.O.D. – "Get a Real Job" from USA for MOD
Birds of Prey – "To Kill a Co-worker (You Ain't My Fucking Boss, Man)" from Weight of the Wound
Eyehategod – "Kill Your Boss" from Take As Needed for Pain
Excel – Fired (You're)" from The Joke's on You
Extra Hot Sauce- I Need A Job" from Taco of Death
Despise You – "Career Overview" from West Side Horizons
Kill The Client – "Worker Ant Syndrome" from Escalation of Hostility
Oxbow – "The Geometry of Business" from The Narcotic Story
Fear Factory – "Slave Labor" from Archetype
Megadeth – "Killing Is My Business…And Business Is Good" from Killing Is My Business
Bloody Roots is Sound of the Beast author (and Bazillion Points publisher) Ian Christe's heavy metal history show on Sirius XM Liquid Metal channel 40. Since June 2004, each weekly show has examined another subgenre, band, movement, country, or theme in metal, punk, and heavy rock. The show is available on-demand online from SiriusXM.com.