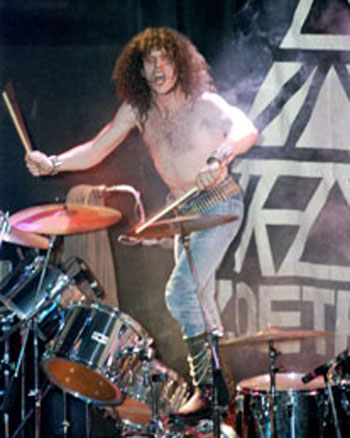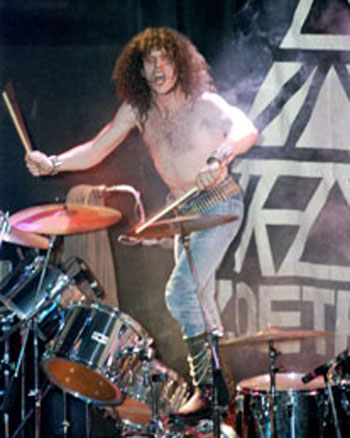 BLOODY ROOTS OF SINGING METAL DRUMMERS
Week of September 7, 2013
Sat 9/7, 6PM ET
Sun 9/8, 2PM ET
Tues 9/10, 3PM ET
Thurs 9/12, 9PM ET
Metal enjoys some of most inhuman drummers ever created, and a select few hammer-handed double threats further defy the laws of nature by singing lead vocals in their bands while pounding the skins. Join host Ian Christe ("Sound of the Beast"/Bazillion Points) for a salute to versatile powerhouses like Dan Beehler of Exciter, King Fowley of Deceased, Mike Browning of Nocturnus/Morbid Angel, Fenriz of Darkthrone, and others. Know your Roots!
PLAYLIST:
Absu – "Pillars of Mercy" from TARA
Exciter – "Iron Dogs" from HEAVY METAL MANIAC
Zoetrope – "Kill the Enemy" from AMNESTY
Warfare – "Noise, Filth & Fury" from SINGLE
Autopsy – "Arch Cadaver" from THE HEADLESS RITUAL
Deceased – "Fearless Undead Machines" from FEARLESS UNDEAD MACHINES
Death – "Infernal Death" from 1985 DEMO
Morbid Angel – "Welcome to Hell" from ABOMINATIONS OF DESOLATION
Darkthrone – "Graveyard Slut" from THE CULT IS ALIVE
Nocturnus – Standing in Blood" from THE KEY
Birdflesh – "AC/Deicide" from THE FARMERS WRATH
Sacrificial Blood – "Unholy Wrath" from UNHOLY FUCKING HATRED
Sad Legend – "Han" from SAD LEGEND
Bloody Roots is Sound of the Beast author (and Bazillion Points publisher) Ian Christe's heavy metal history show on Sirius XM Liquid Metal channel 40. Since June 2004, each weekly show has examined another subgenre, band, movement, country, or theme in metal, punk, and heavy rock. The show is available on-demand online from SiriusXM.com.