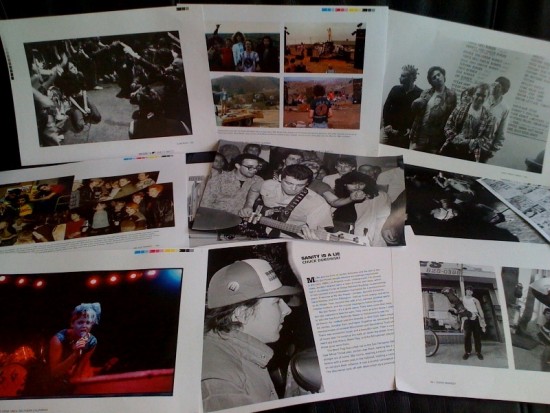 We Got Power (Los Angeles) and Perihelion Arts (Phoenix, AZ), are proud to present "WE GOT POWER!", a large exhibit of historic hardcore punk photos from the book WE GOT POWER!: Hardcore Punk Scenes from 1980s Southern California, by David Markey and Jordan Schwartz.

http://www.perihelionarts.com/
Opening Sept. 20 with an artist/author reception to follow on Oct. 4 featuring David Markey and Jordan Schwartz, the installation will feature acclaimed early live, posed, and candid photos of Black Flag, Descendents, Suicidal Tendencies, and other seminal Los Angeles hardcore groups. The Oct. 4 reception kicks off a We Got Power weekend in Phoenix, which will also include screenings on Oct. 5 from the rich filmography of documentary filmmaker David Markey (director of Lovedolls Superstar, The Slog Movie, 1991: The Year Punk Broke, etc.).
The exhibition extends the legendary September 2012 We Got Power! book exhibit at Track 16 in Santa Monica, CA, which drew over 5,000 visitors and caused a mile-long traffic jam on the 405 freeway.
http://www.wegotpowerbook.com/
Presenting original essays by David Markey, Jordan Schwartz, Jennifer Schwartz, Henry Rollins, Keith Morris, Chuck Dukowski, Dez Cadena, Louiche Mayorga, Cameron Jamie, Pat Fear, Steve Humann, Tony Adolescent, Jack Brewer, Jula Bell, Mike Watt, Sean Wheeler, Joe Carducci, Daniel "Shredder" Weizmann, and Janet Housden; capturing nearly 400 photos of Black Flag, the Minutemen, Social Distortion, Red Cross/Redd Kross, Suicidal Tendencies, the Descendents, White Flag, the Last, the Gun Club, Saccharine Trust, Sin 34, Nip Drivers, Circle One, M.D.C., Big Boys, Youth Brigade, D.R.I., the Butthole Surfers, and many others from the dawn of hardcore punk in Southern California; and reprinting every issue of the influential We Got Power! zine from 1981 through 1983, WE GOT POWER! is on bookstore and music shop shelves everywhere, and is available directly from Bazillion Points Books, "The first and last words in heavy reading."
"Essential reading… the funniest of the local mags"-Matt Groening, 1983
"The pair's gritty, deadpan photos captured the bands, DIY venues, and SoCal vagrants that would eventually define an entire subculture…stunning"-the Fader
"Stunning and beautiful"-AP
"A yearbook for SoCal dropouts who changed the world."-Inked
http://www.bazillionpoints.com/