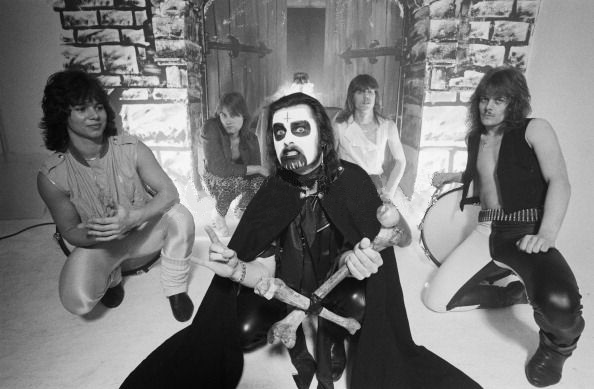 Sirius XM Bloody Roots of Heavy Metal Time-Lapse Recap 1983 to 2013
Week of September 14, 2013
Sat 9/14, 6PM ET
Sun 9/15, 2PM ET
Tues 9/17, 3PM ET
Thurs 9/19, 9PM ET
For this week's metal history lesson, host Ian Christe (Sound of the Beast/Bazillion Points Books) quickly traces back thirty years of intense and ambitious aggression. Checking the pulse of metal from 1983 to 2013 in highly opinionated five-year intervals, the advances in technique and technology become clear in tracks by Mercyful Fate, Slayer, Entombed, Sepultura, Death, Opeth, Gojira, and more!
PLAYLIST:
MERCYFUL FATE – "At the Sound of the Demon Bell" from Melissa (1983)
SLAYER – "Behind the Crooked Cross" from South of Heaven (1988)
FATES WARNING – "Anarchy Divine" from No Exit (1988)
NAPALM DEATH – "Instinct of Survival" from From Enslavement to Obliteration (1988)
SEPULTURA – "Propaganda" from Chaos AD (1993)
ENTOMBED – "Wolverine Blues" from Wolverine Blues (1993)
TYPE O NEGATIVE – "Blood and Fire" from Bloody Kisses (1998)
DEATH – "Scavenger of Human Sorrow" from The Sound of Perseverance (1998)
ENSLAVED – "As Fire Swept Clean the Earth" from Below the Lights (2003)
OPETH "Windowpane" from Damnation (2003)
GOJIRA – "Toxic Garbage Island" from The Way of All Flesh (2008)
MESHUGGAH – "Bleed" from ObZen (2008)
BOLZER – "Entranced by the Wolfshook" from AURA (2013)
Bloody Roots is Sound of the Beast author (and Bazillion Points publisher) Ian Christe's heavy metal history show on Sirius XM Liquid Metal channel 40. Since June 2004, each weekly show has examined another subgenre, band, movement, country, or theme in metal, punk, and heavy rock. The show is available on-demand online from SiriusXM.com.