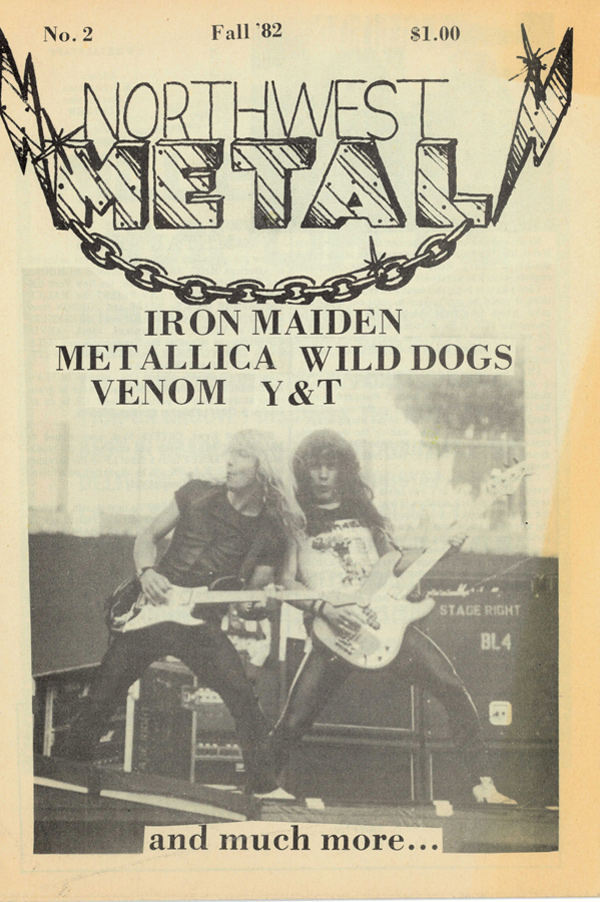 The mighty "Cirith Umgoo" couldn't make it to San Francisco, and were replaced by another Metal Blade discovery from the first Metal Massacre comp., Metallica.
Today is the 31st anniversary of Metallica's first show in San Francisco. They came, they conquered a small but hugely appreciative crowd, and then they went back to Los Angeles. Basically, they left their hearts in the Bay Area, though. They couldn't wait to return.
Young Brian Lew was an excited eyewitness to this first Metalli-conquest of the Bay Area. His photos and subsequent concert report for Northwest Metal #1 are invaluable source material for the thrash metal scholars of future centuries. The photos themselves, catching the band before and after the gig, are already on display in Brian and Harald Oimoen's stunning photo book Murder in the Front Row: Shots from the Bay Area Thrash Metal Epicenter, among the first of over four hundred photos from the early formative years of Bay Area thrash.
Here's that review written by Brian Lew in 1982:
In addition, Brian recalls:
"Metallica stayed at Sam Wong Hotel on 615 Broadway, which was only a couple of blocks from the Stone.  It's now called the SW Hotel, and has been remodeled, but it's still there today. After the show, my friends and I walked back to the hotel with Metallica to hang out. I have a vivid memory of the members of Bitch walking by themselves on the other side of the street, all by themselves, while our crew and Metallica were being loud and obnoxious. Photos from that night can be seen in Murder, as the book also includes the autographed setlist from the show that the band (except for Ron McGovney) signed back at their hotel.
Dave Marrs, an original roadie for Metallica, remembers the road trip from inside the Ford pickup: 
"McGovney's parents had a Ford pickup truck with a camper shell that they used (to drive from L.A. to San Francisco). McGovney drove, I sat shotgun, the rest of them were in the camper shell, completely drunk off their ass by the time we were 150 miles into the trip. I often see stories about the U-Haul trailer being hooked up to Lars Ulrich's AMC Pacer, I don't remember that ever happening and I don't see how it could be possible! Not only did the Pacer not have a trailer hitch, how would it ever make it up over the Grapevine towing a trailer? I rode in that Pacer many times and trust me, it had absolutely no power."
Get Murder in the Front Row, which Kirk Hammett calls "the definitive story of the scene" HERE!