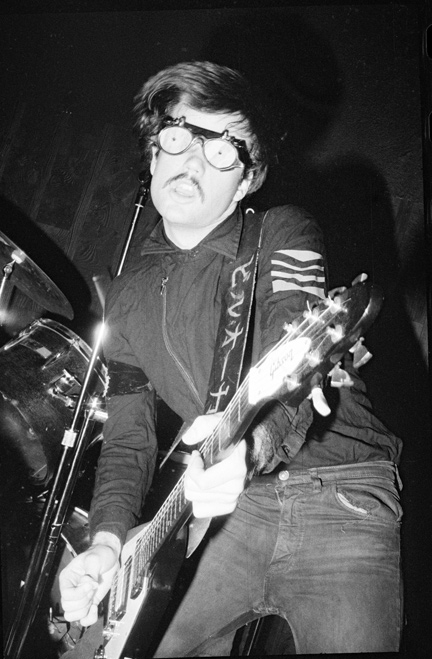 Above: Pat Fear, White Flag, the Vex, East L.A., 1983. (Photo by Jordan Schwartz)
Pat Fear of White Flag passed away. He was a contributor to We Got Power!: Hardcore Punk Scenes from 1980s Southern California, by David Markey and Jordan Schwartz, and was an unshakeable fixture on that scene since long before it existed. He was also a longtime collaborator of our author Tesco Vee. Our condolences go out first and foremost to Dave, Jordan, and Tesco, friends who have lost a very old friend.
The biography he submitted for the book doesn't include his rumored past lives as a cop and some kind of rodeo cowboy, but does cover his long musical story:
Pat Fear founded White Flag in 1982, in Sunnymead, CA. The band has toured the world and their twenty-three albums have been released in Greenland, the Faroe Islands, and, as part of an anti-apartheid benefit, South Africa. His Gasatanka Records released music by Redd Kross, the FU's, Melvins, Cowsills, Anarchy 6, punk supergroup Tater Totz, and the Flipside Vinyl Fanzine compilation albums. Pat also backed legendary DJ Rodney Bingenheimer in the band Rodney and the Tube Tops, which also included We Got Power founder David Markey on drums. He brought Japan's Shonen Knife to the world's attention, as well as Brazil's Os Mutantes, who dedicated their 2009 reunion album to him. Pat has also worked as a songwriter and producer for such artists as Dot Wiggin of The Shaggs, The Go-Go's, Susanna Hoffs, Redd Kross, and Sean Lennon. He can be seen in the Black Flag and Germs scenes of The Decline of Western Civilization, and the cover of the Circle Jerks' Group Sex. Pat is currently working on the 24th and 25th White Flag records, tentatively titled It Crawled Out of the Woodwork and Be More Than A Witness.
For leather-clad metalheads, the biggest notch on his belt is probably the song "Bite the Knife," by White Flag's earlier manifestation as Test Pattern. I first came into contact with Pat in the early 2000s, looking for more info on an unreleased Test Pattern album produced by Don Bolles of the Germs/45 Grave.
We had been talking lately about a book on punk riots, and I can't imagine what other immense stashes of obsessive knowledge have just vanished with Pat Fear's passing. Re-reading his We Got Power! essay, his final paragraph dwells darkly on the many ghosts in the book:
Revisiting this time period has reminded me how many unique and talented people I knew or admired who were on the staff, depicted in pictures, named in reviews or interviews, or even just involved concurrently in the local punk scene during that era who are no longer with us… Sadly, this is in no way a complete list.
R.I.P. to a true California original.