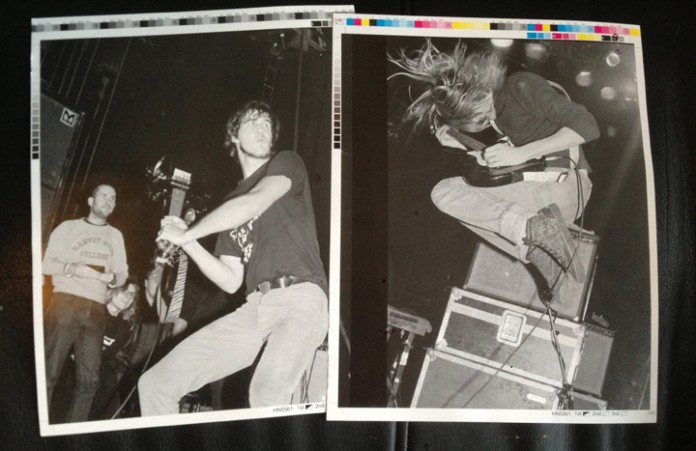 The upcoming book Experiencing Nirvana: Grunge in Europe, 1989, by Sub Pop Records cofounder Bruce Pavitt, will include two dozen never-before-seen black and white photographs of Nirvana, Mudhoney, and Tad, shot by renowned photographer Steve Double, taken the breakthrough night of Sub Pop's LameFest UK, at London's Astoria Theatre, on December 3, 1989. As described in the book, LameFest UK was a pivotal gig, the most significant night in Nirvana history until that point. Miraculously, the Steve Double images include an extremely fortuitous frame of author Bruce Pavitt standing onstage, about to snap a photo of Nirvana's Krist Novoselic smashing a bass guitar.
"Within a month of photographing the bands at LameFest UK," writes Double in his foreword, "I also photographed Skid Row, Grant Hart of Hüsker Dü, Rollins Band, the Stone Roses at Alexandra Palace, the Sugarcubes, and Bon Jovi. You can try to guess who rated as top of my pops and who didn't. For a gig like the Sub Pop showcase, usually I would just shoot the headliners."
Fortunately, the prolific Double snapped away, capturing page after page of the clearest and most exciting early photos of the Seattle grunge bands in full frenzied action. See the results printed in large format this November in Experiencing Nirvana, available for preorder now from Bazillion Points.
http://www.bazillionpoints.com/nirvana/
Steve Double has been worked extensively and exhaustively as a photographer for over twenty-five years, specializing in celebrity portraits. Some highlights are having 90 seconds to photograph Bill Gates, waiting six hours for the Spice Girls, being chided for lateness by Public Enemy, drinking caipirinhas with Nick Cave, blagging an upgrade off Richard Branson, and spending five days in a van with Nirvana. His work is held in the permanent collection of Britain's National Portrait Gallery.