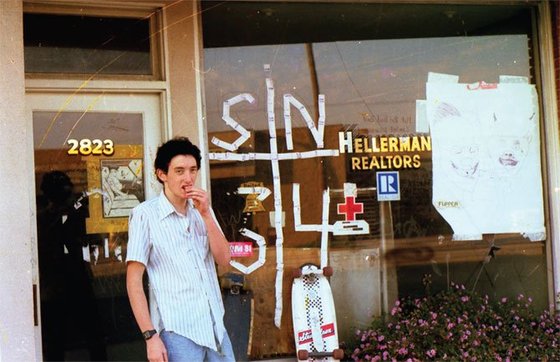 The Phoenix New Times recently sat down with David Markey and Jordan Schwartz, L.A. punk archivists, to discuss the smoldering early moments of Southern California hardcore punk. Markey and Schwartz present over 400 photos and essays by Henry Rollins, Dez Cadena, and many others from Black Flag, Circle Jerks, Suicidal Tendencies, the Vandals and other bands in their behemoth hardcover history WE GOT POWER!: Hardcore Punk Scenes from 1980s Southern California (Bazillion Points Books).
Jordan Schwartz on rekindling the spirit of hardcore punk: "The times were pretty intense. The music was intense and the whole scene was a very, very intense scene. I think people were having a lot of fun, but it was also pretty aggressive and violent. As soon as we saw those pictures, it immediately spoke to us. We were like, 'We gotta put these pictures together with some people's stories and get this book out.'"
On the social background to early hardcore: "Everyone was kind of going through similar things–just realizing that you don't fit into the mainstream society and then somehow [coming] across this really intense music. They become a moth and the music is the flame driving them out to some weird warehouse, or some house party in some other city that you would never have gone to before."
On the regional nature of hardcore punk: "The funny thing about the people in that scene is that they like to tell those stories. For example, the way I got Mike Watt to write his piece for We Got Power!, which was really about San Pedro, CA, was I took a rough draft of the book to his gig and showed him Dez Cadena from Black Flag's piece. He looked at that and said, 'Well, hey, I got to write about Pedro.' The thing about Mike Watt is that he is all about San Pedro. He saw that and he had to tell his story."
The feature-length interview is available at THIS LOCATION.
For more info: http://www.wegotpowerbook.com/