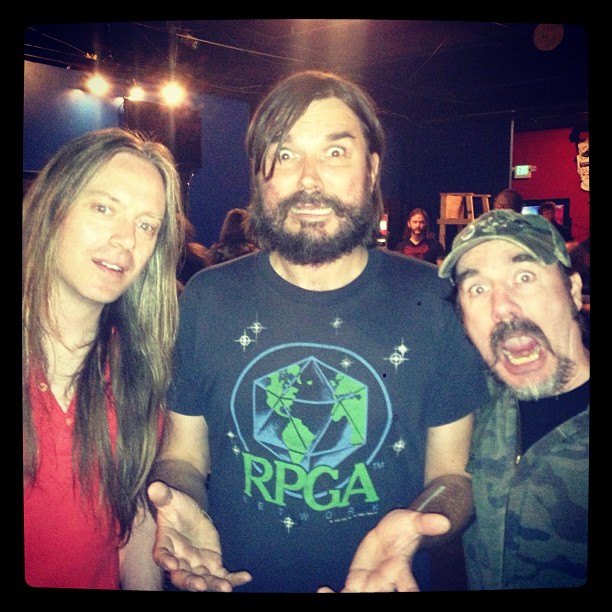 Bloody Roots Welcomes Bill Steer and Jeff Walker of Carcass
Week of September 28, 2013
Sat 9/28, 6PM ET
Sun 9/29, 2PM ET
Tues 10/1, 3PM ET
Thurs 10/3, 9PM ET
Bloody Roots heralds the return and Billboard Top 50 success of the almighty Carcass with a visit from carnage kings Jeff Walker and Bill Steer. Host Ian Christe ("Sound of the Beast"/Bazillion Points Books) walks the pair through the new album Surgical Steel, early influences including Repulsion and Chaos UK, and Carcass-related bands Blackstar Rising, Firebird, Aborted, and Pig Iron. Join us in honor of one of the greatest bands in metal history, and know your Roots!
PLAYLIST:
CARCASS – "Thrasher's Abbatoir" from SURGICAL STEEL
BLACKSTAR RISING – "Smile" from BARBED WIRE SOUL
FIREBIRD – "Blue Flame" from GRAND UNION
CARCASS – "Exhume to Consume" from GRIND CRUSHER
REPULSION – "Stench of Burning Death" from HORRIFIED
CHAOS UK – "Another Punk Rock Day" from THE MORNING AFTER THE NIGHT BEFORE
ABORTED – "1 3 5" from STRYCHNINE.213
PIG IRON from "Love in Spirit" from BLUES + POWER = DESTINY
CARCASS – "Unfit for Human Consumption" from SURGICAL STEEL

Bloody Roots is Sound of the Beast author (and Bazillion Points publisher) Ian Christe's heavy metal history show on Sirius XM Liquid Metal channel 40. Since June 2004, each weekly show has examined another subgenre, band, movement, country, or theme in metal, punk, and heavy rock. The show is available on-demand online from SiriusXM.com.