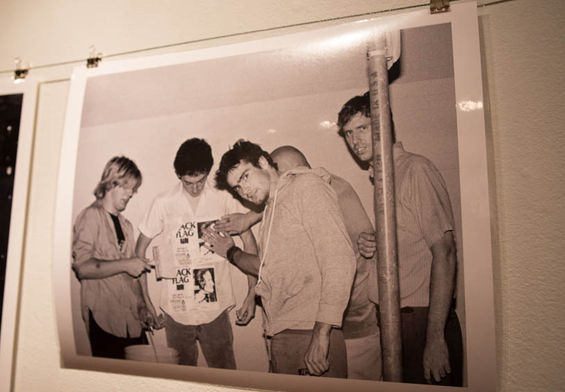 The wayward youth of Southern California are running wild with the tumbleweeds in the streets of Phoenix, AZ, this weekend. WE GOT POWER!: Hardcore Punk Scenes from 1980s Southern California authors David Markey and Jordan Schwartz are headed to the desert for a weekend of photos, films, and fun:
First Friday Party, Oct. 4 from 6–9 PM, Perihelion Arts presents: 
Exhibit of classic photo prints from the original WE GOT POWER! negative scans, featuring Black Flag, Minutemen, Red Cross/Redd Kross, Gun Club, Circle One, and countless other early DIY hardcore scene legends. Books for sale, and authors on hand to sign them. Modified Arts, 407 E Roosevelt Phoenix, AZ 85004
www.modifiedarts.org
First Friday, Oct. 4, 9 PM, We Got Power! Night of Rock, $5 for show/ free before 9 p.m.
Celebrate the book and the exhibitions with a selection of local bands, meet the authors, some artists, and enjoy Grand Ave. On the bill: Father Figures, Scorpion VS Tarantula, JJCnV, and French Girls.
The Trunk Space 1506 Grand Ave Phoenix AZ 85007
www.thetrunkspace.com
Saturday, Oct. 5, 4 PM, My Career as a Jerk Circle Jerks documentary screening with David MarkeyWe Got Power! movie event with bonus features and a book signing to follow!
Filmbar  815 N 2nd St Phoenix AZ 85004
www.thefilmbarphx.com
Go, support the scene, take photos and post them everywhere—and party or go home !