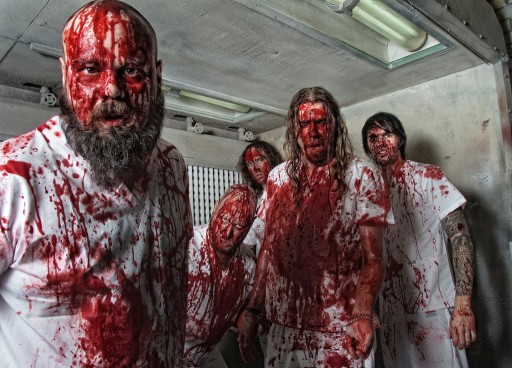 SiriusXM Bloody Roots of Carcass Worship
Week of October 12, 2013
Sat 10/12, 6PM ETSun 10/13, 2PM ET
Tues 10/15, 3PM ET
Thurs 10/17, 9PM ET
Over the past 25 years, the impact of Liverpool metal band Carcass has been repeatedly felt worldwide in countless forms. From the gory early recordings to the slick melodic major label era, Carcass has proven as durably influential as forerunners like Black Sabbath, Iron Maiden, and Slayer. This week, host Ian Christe (Bazillion Points Books), examines the cadavers of Carcass acolytes including General Surgery (pictured above), Aborted, Necrony, Impaled, Exhumed, and the County Medical Examiners, plus inspirational mayhem from Carcass themselves, including music from the 2013 Surgical Steel release. Know your bloody, bloody Roots!
PLAYLIST:
CARCASS – "Exhume to Consume" from GRIND CRUSHER
CARCASS – "Hepatic Tissue Fermentation II" from TOOLS OF THE TRADE
CARCASS – "Heartwork" from HEARTWORK
XYSMA – "Procreated from Blood" from SWARMING OF THE MAGGOTS
EXHUMED – "Waxwork" from ANATOMY IS DESTINY
GENERAL SURGERY – "The Succulent Aftermath of a Subdural Haemorrhage" from NECROLOGY
ABORTED – "Wretched Carnal Ornaments" from THE PURITY OF PERVERSION
NECRONY – "Swarming Vulgar Mass of Infected Virulency" from NECRONYISM: DISTORTING THE ORIGINALS
IMPALED – "Mondo Medicale" from DEATH AFTER LIFE
THE COUNTY MEDICAL EXAMINERS – "Maturating Decompositional Gas" from OLIDOUS OPERETTAS
HAEMORRHAGE – "Putritorium" from ANATOMICAL INFERNO
CATTLE DECAPITATION – "Burnt to a Crisp" from REQUIEMS OF REVULSION
CARCASS – "The Master Butcher's Apron" from SURGICAL STEEL
Bloody Roots is Sound of the Beast author (and Bazillion Points publisher) Ian Christe's heavy metal history show on Sirius XM Liquid Metal channel 40. Since June 2004, each weekly show has examined another subgenre, band, movement, country, or theme in metal, punk, and heavy rock. The show is available on-demand online from SiriusXM.com.