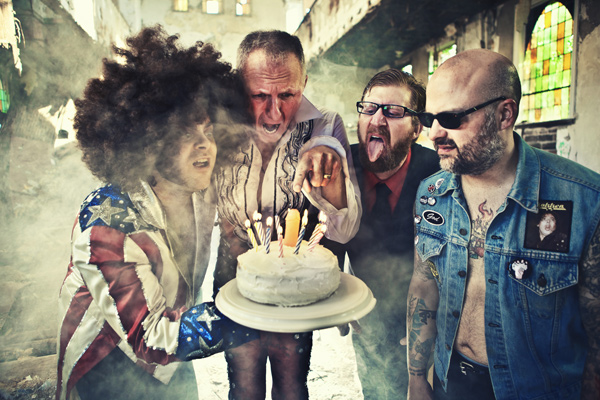 Above: The Meatmen!
Decibel magazine recently interviewed the great and entertaining Tesco Vee, Meatmen frontman and co-creator of TOUCH AND GO: The Complete Hardcore Punk Zine '79–'83. This veteran handmaiden of hardcore punk covered subjects as varied as playing punk rock in his '50s, child-rearing the Tesco way, and wanting to suffocate Ann Coulter with his buttocks. Sample these choice nuggets…
On the eclectic reviews in the mainly punk oriented Touch and Go zine: "I think people were surprised I can be a softie and that we gave U2 a good review. We liked Echo And The Bunnymen and Gang Of Four. These weren't heavyweight hits from England. I always plugged my own band in Touch and Go, but they operated in different universe. It took us five years to sell that book and the publisher (Bazillion Points) has been magical. They are a great bunch of people."
On reforming classic hardcore outfit the Meatmen:"My son started to make overtures, saying he was too young and missed it and wanted me to do it again. John Brannon from Negative Approach called and wanted me emcee their first show in Detroit in like 25 years. That morphed into 'hey Tesco why don't you do a few tunes and the guys will back you.' That turned into a half-hour set with Negative Approach backing me. It was the first time in 11 years and I felt like I could do it. So we had a lineup in 2008 and the fire was officially relit."
On his trademark stage banter: "Some people tell me their 75-year-old grandfather knows bits. I try to reach out and touch people on every level, or some level. People come up to me and recite the banter and say 'remember when you said this on stage back in 86!' And it's actually, no, but I'm glad it stuck with you. Every show is like a fingerprint. I try not to say the same things but when something works I'll use that at every show."
Check out the rest of Decibel's debriefing of the Dutch Hercules HERE.
For more Tesco Vee hilarities and a month-by-month record of the rise of hardcore punk rock starting in 1979, pick up a John Brannon badge, some new wave balloons, and TOUCH AND GO: The Complete Hardcore Punk Zine '79–'83 pronto!