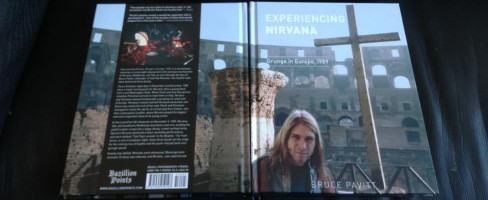 Join author Bruce Pavitt and a host of heroes from the early years of Sub Pop Records, the label he co-founded, at a special December 7 signing and release party at the wonderous Fantagraphics store in Seattle, WA. Pick up a copy, hot off the presses, of Experiencing Nirvana: Grunge in Europe, 1989, an eight-day odyssey of photos and diary entries by Bruce documenting the moment that Seattle rock caught fire. Get it signed by Bruce, the one and only Tad Doyle, and other luminaries from the kingfisher days of 1989.
WHAT: Book signing and official release of Experiencing Nirvana: Grunge in Europe, 1989 by Bruce Pavitt
WHERE: FANTAGRAPHICS Bookstore and Gallery, 1201 S. Vale St., Seattle, WA 98108
WHEN: Saturday, December 7, 2013; 6:00 PM
WHO Will Be DJing?: Charles Peterson, whose needles are as sharp as his photos
WHY ELSE?: Free beer from Elysian, kick-ass Oddland Series brews inspired by wildman Jim Woodring
More on the FACEBOOK event page HERE.